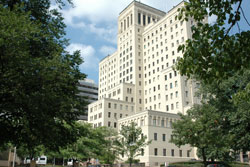 We're extremely proud of AHN's investment in educational resources that will help us to develop the talents of surgeons in training and foster advances in surgical research.
Pittsburgh, PA (PRWEB) May 16, 2016
Allegheny Health Network today announced the opening of a new, state-of-the-art surgical training facility at Allegheny General Hospital (AGH).
AGH's Center for Surgical Arts was unveiled on Saturday, May 14 when the hospital's Division of Orthopaedic Trauma hosted a course on pelvic fracture repair for senior residents and fellows.
Located on the fourth floor of AGH's South Tower, the 7,400 square foot teaching lab features 21 bays for training residents and fellows in neurosurgery, orthopaedic surgery, cardiothoracic surgery, pain therapy interventions, and interventional radiology, among other specialties.
"The addition of this uniquely designed, modern teaching lab will further advance Allegheny Health Network's long history of providing our next generation of surgeons with invaluable, hands-on learning experiences," said Khaled Aziz, MD, director of AGH's Center for Complex Intracranial Surgery.
Architects from IKM Inc. designed the facility with advanced audio-visual capabilities to enable clinical instructors at a central station to broadcast their work to medical students, residents and fellows at individual work stations as well as allow for live streaming of surgical cases from operating rooms into the teaching lab.
The $4 million project also involved installation of a dedicated air handling and ventilation system for the Center, as well as office space, storage and locker room facilities.
"The new Center for Surgical Arts is a tremendous asset to our Network's robust medical education and research programs," said Boyle Cheng, PhD, Director of Research for AGH`s Neurosciences Institute. "The Center affords the ideal setting for residents, fellows, and physicians to master complex surgical procedures, explore new surgical techniques and technologies and, ultimately, provide patients with the best surgical outcomes possible."
The inaugural training session, Pittsburgh Pelvic and Acetabular Course, featured hands-on learning opportunities and instruction from four AGH orthopaedic trauma specialists along with expert instructors from Hershey Medical Center, University of Pittsburgh Medical Center and West Virginia University.
"Our orthopaedic surgery residency program and Division of Orthopaedic Trauma will benefit immensely from this premier teaching facility," said Patrick J. DeMeo, MD, Chair, AHN Department of Orthopaedic Surgery. "We're extremely proud of AHN's investment in educational resources that will help us to develop the talents of surgeons in training and foster advances in surgical research."
###