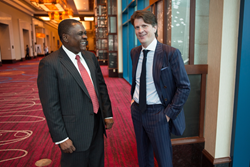 "Dr. Omalu followed the science regardless of the criticism against him," said Dr. Erol Veznedaroglu. "Hearing his story is a great way for us to start off our conference as we all seek to advance the neurosciences to help our patients.
Atlantic City, New Jersey (PRWEB) May 16, 2016
The neuropathologist who identified chronic brain damage in NFL players opened the Drexel Neurosciences Conference with a powerful recounting of his search for scientific truth amid attacks from professional sports and even some in established medicine.
Dr. Bennet Omalu told the more than 300 physicians, nurses and other health care providers gathered at the conference about the day in 2002 when he examined the body of football player Mike Webster, who suffered from amnesia, depression and dementia.
"Everybody was talking about him so negatively. I was offended. I knew he played football," said the Nigerian-born physician who was working at the Allegheny County Coroner's Office in Pittsburgh. "I wondered, 'Could he have suffered from some type of brain damage?'"
Dr. Omalu recalled how he spoke quietly to Webster's body: "I said to him, 'Mike, I see myself in you. I too have suffered from depression.' I saw myself in that man and wanted to get to the bottom of what happened to him."
Omalu was the keynote speaker of the Drexel Neuroscience Institute's Inaugural Conference May 11-May 13 in Atlantic City. He kicked off two days of presentations from medical experts who described the latest advances in stroke, aneurysm, epilepsy, brain tumors, concussion and other critical issues in the neurosciences.
"Dr. Omalu followed the science regardless of the criticism against him," said Dr. Erol Veznedaroglu, MD, FACS, FAANS, FAHA, Director of the Drexel Institute for Neurosciences. "Hearing his story is a great way for us to start off our conference as we all seek to advance the neurosciences to help our patients — even if that means going against convention."
As keynote speaker, Dr. Omalu described his childhood in Nigeria during Civil War, his malnourishment as a child, and the depression that took hold of him while he attended medical school. "In my depression I learned life lessons. Those life lessons prepared me for what was to come in my life," he said. His findings were initially attacked, though today CTE, or Chronic Traumatic Encephalopathy, is generally accepted as a condition that results from repeated blows to the head.
"Science is truth. There are not two sides to truth," Dr. Omalu said.
His talk was followed by three days of presentations and breakout sessions:

Mandy J. Binning, M.D., outlined how new clot retrieval devices that reach into the brain through the vascular system to remove blood clots are improving outcomes in stroke. She also said advanced imaging and protocols to speed treatment are also important. She described patient cases and outlined some of her own research as well as other studies to show how advances are helping stroke patients. Dr. Binning is Assistant Professor of Neurosurgery at Drexel University College of Medicine as well as a fellowship-trained neurosurgeon with Drexel Neurosciences Institute.
Kiwon Lee, MD, FACP, FAHA, FCCM, discussed research in cooling patients to improve outcomes in his presentation called, "Different Levels of Hypothermia: Is Cooler Better?" Dr. Lee described cases such as a two-year-old who fell into an icy tributary in Pennsylvania and was swept downstream. The child had no pulse for more than one hour, yet was revived and returned home with no neurologic deficits. Dr. Lee said cooling has strong scientific and animal data showing it may benefit humans, and studies have found value in cooling certain patients suffering from cardiac arrest and neurologic injury and disease. Yet research into the use of cooling is not settled, and studies are continuing. "The train is arriving at the destination. We will have more answers soon," he said. Dr. Lee is Vice Chair of Neurosurgery at The University of Texas Houston Medical Center.
Dr. Ricardo A. Cruciani, MD, PhD., outlined the risks and benefits of using opioids for treating pain. He said long-term opioid therapy can benefit chronic pain patients but has to be done in the right context where risk, potential harm and benefits are carefully addressed. Substance abuse disorders are a common co-morbidity that may need assistance from providers such as addiction psychiatrists. Dr. Cruciani provides a multi-disciplinary approach to each patient. Dr. Cruciani is chair of neurology at Drexel University College of Medicine.
Kenneth M. Liebman, MD, FACS, FAANS, outlined therapeutic advancements in the treatment of aneurysm. Dr. Liebman said neurosurgeons must explore multiple treatment options and determine what will work best for each patient. Clipping the aneurysm or using embolization or coiling are just some of the options. The patient's age, the location, shape and size of the aneurysm all must be taken into consideration, he said. "When you have a hammer everything looks like a nail. That's why we need multiple tools to treat each patient individually," he said.
Jonathan Thomas, MD, outlined the latest advances in neuro-oncology. He talked about innovations in the neurosurgical treatment of brain tumors, such as new medications, surgeries and interventions. He is a Clinical Specialist and Fellow at MD Anderson Cancer Center.
The conference also examined topics about the industry of health care, including a session on Medical Merger Mania: Impact of Neurosciences in New Jersey and Pennsylvania.
In another session, David L. Knowlton, MA, the former President and CEO of the New Jersey Health Care Quality Institute, talked about the need for objective hospital safety data that is understandable by the public. He recalled seeing an "A" grade as a rating system outside a New York restaurant and used his position as Chairman of The Leapfrog Group to work on the creation of a similar Hospital Safety Score grading system. This year, Leapfrog told consumers how selecting the wrong hospital increases their chance of dying. Findings point to a 9% higher risk of avoidable death in B hospitals, 35% higher in C hospitals, and 50% higher in D and F hospitals, than in A hospitals.
"This conference brings together all the disciplines within the neurosciences for collaboration and education," said Dr. Veznedaroglu. "At Drexel Neurosciences Institute, we have created one institute for all the neuroscience disciplines. Our doctors meet daily, not monthly, to discuss cases and issues in the field … On the neurosciences, we need to re-think, re-define and revolutionize."
About Drexel Neurosciences Institute
Drexel Neurosciences Institute is an innovative collaboration of Drexel University College of Medicine and Global Neurosciences Institute, LLC (GNI). The Drexel Neurosciences Institute, led by prominent neurosurgeon Erol Veznedaroglu, MD, FACS, FAANS, FAHA, provides an integrated approach to neuroscience-related clinical care, education and interdisciplinary research. The Drexel Neurosciences Institute harnesses the expertise of Drexel Medicine neurologists and researchers, who provide groundbreaking care in areas such as Alzheimer's disease and related dementias, ALS, and chronic pain, combined with the clinical expertise of GNI neurosurgeons, who are among an elite group of dual-trained vascular neurosurgeons able to perform conventional neurosurgery as well as minimally invasive endovascular neurosurgery. DNI's clinical affiliates include Hahnemann University Hospital, Aria Health, and Lourdes Health System. For more information, visit DrexelMedicine.org