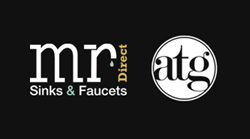 Toledo, Ohio (PRWEB) May 15, 2016
MR Direct is excited to announce that it is continuing to team-up with major retailers who are operating on the worldwide web. Numerous sinks, from all eight lines of the MR Direct collection, are now being offered on these sites as ensemble packages. Select individual sinks are showcased as well.
Amazon and e-Bay have both been selling the MR Direct ensembles for some time, and with great success. These relationships are ongoing and continue to expand. As well, MR Direct has well-established marketing contracts with such recognized retailers as Home Depot, Overstock.com, and Houzz. Recently, an exciting new agreement was reached by MR Direct with yet another major retailer -- ATG (All That's Good) Stores. As a subsidiary of Lowes, ATGStores.com is a fast-growing, online, home improvement retailer; but that is just the beginning of their story.
A visit to their site not only provides the opportunity to purchase merchandise for every facet of every room in the house; but it is also a learning experience. A perfect blend of products, comparisons, recommendations, lifestyles, trends, and opinions are presented through professional articles and blogs. It is complete with expansive product listings and stories about lighting, plumbing, furniture, outdoor decor, commercial goods, and more.
MR Direct is now a part of this dynamic venture as their products, and ensembles of their products, become available on the ATGStores.com website. Stainless steel, glass, and bamboo models are available as ensembles, and individually. Stone, copper, porcelain and TruGranite sinks are being sold without additional components.
MR Direct has created ensemble packages of many of their sinks to be sold exclusively through select marketers. These bundles vary in content. Kitchen sinks typically include accessories; such as strainers, grids, and cutting boards. Bathroom sinks of the vessel style, usually have a waterfall faucet with a disk that matches the basin, and a choice of metallic finishes as well. Pop-up drains and sink rings are also included for most bathroom models. Whatever the combination, these packages are proving to be very popular.
The collections of MR Direct sinks are broad and beautiful. Designs range from classical to contemporary. And, all are manufactured using premium-quality materials. Ensembles of these fine products can be found by visiting any of the marketing websites mentioned.