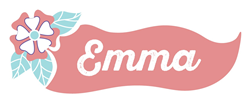 Name Plax work on pretty much any camp trunk you got.
Boyd, WI (PRWEB) May 16, 2016
Stylish, attractive storage pieces, camp trunks are fun for summer campers to personalize so it looks just the way they want it to. Camp trunks can speak volumes about their owners when dressed up and decorated to their liking. There are all sorts of different methods of trunk decorating, but what better way for campers to express themselves than to display their wonderful name in all its glory?
Some people have paint jobs done to fancy up their footlockers. Others order giant decals that cover the entire tops of their trunks. While these popular methods are, in no doubt, awesome, they can also be expensive, costing anywhere from $100-$300.
Always expanding into new territories, summer camp retailer, Everything Summer Camp introduces their latest trunk decoration that features a summer camper's name: Name Plax.
Name Plax are contour-cut vinyl material, intended to top a camp trunk. They aren't limited to trunks, though! They'll stick on a bedroom door, wall, window, or any other smooth, clean surface. Name Plax work on any camp trunk aside from trunks with a fabric surface such as Rhino Armor trunks.
Over the years, Everything Summer Camp has come to realize that people who order Lid Skinz or get paint jobs for their trunks generally just want their name. Name Plax deliver a simpler, solution to flaunt a name on a footlocker.
With a plethora of options to choose from, you can customize your background, font, font color, and size. The rectangular Plax at Everything Summer Camp measure 8" high by 18" long and the circular Plax are 9" in diameter. These decals are removable but not reusable.
Order a Name Plax print and enjoy your self-expression spelled out just the way you want! Sure to be a hit this summer, Name Plax can be found right here on the Everything Summer Camp website.
About Everything Summer Camp
Everything Summer Camp has been helping kids get ready for summer camp since 1987. Their wide selection of camping gear includes camp trunks and other camping supplies. Top selling items include water bottles, cot-sized bedding, rain jackets, insect repellent, iron on labels, and more. Known for their customer service and fast shipping Everything Summer Camp is recommended by more camps than any other camp outfitter.
Visit http://www.EverythingSummerCamp.com to learn more about camp footlockers, name labels, duffel bags, and camping supplies.