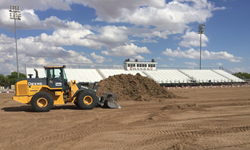 We are very excited to be able to work with Hellas.
AUSTIN, TX (PRWEB) May 17, 2016
Ysleta voters approved a $430.5 million bond in efforts to bring immense upgrades to the Ysleta Independent School District. Now, the gears of change have been set in motion and athletic facility upgrades are the first thing on the agenda.
"We are very excited to be able to work with Hellas," said Patrick O'Neill, Associate Superintendent at Ysleta ISD. "They are known across the state as one of the premier athletic facility builders."
All seven high school football stadiums in the district will be getting Hellas Construction's Matrix® Turf with Helix technology, Realfill infill, and Cushdrain® shock pad. Matrix Turf's durability has been tried and tested to withstand hours of multi-sport play, while maintaining the aesthetics of a natural-grass playing surface. The added Helix technology with unique twisted monofilament fiber secures the Realfill infill, which prevents migration and "splash out," producing a safe, uniform surface with predictability of play. Hellas' Cushdrain improves field drainage, while increasing shock absorption to reduce the risk of concussions in athletes, and ensures a long life cycle of the artificial turf system. In addition to offering YISD athletes a safe, predictable playing surface, each field will be customized with respective logos and colors, bringing together each school's pride and traditions.
Bel Air, Parkland, Riverside, J.M. Hanks, Del Valle, and Eastwood high schools' softball fields, as well as all seven high school baseball fields will have new batting cages with Grasso® Sportscape. Each field will also receive new metal-panel outfield fencing, black vinyl foul-line fencing, masonry backstops with new backstop netting systems, and new score boards. New metal halide lighting systems will be installed at the fields, offering long-lasting, energy-efficient light levels for night play.
"We will be the first school district in the area that has lighting. We are thrilled with the idea that our students will be able to play night games like the rest of the students across Texas," said O'Neill.
New track and field events will be built and surfaced with epiQ Tracks® - the fastest, smartest, strongest running track surfaces on the market. Metal halide lighting will also be installed at the tennis courts – rounding out a full spectrum of improvements to all of Ysleta ISD's sporting event surfaces and structures.
All projects are set to be completed by the beginning of 2017, ensuring that all seven high schools have technologically advanced, high-quality sports facilities for years of athletic success.
About Hellas Construction
Headquartered in Austin, TX, Hellas Construction, Inc. is one of the largest sports construction contractors in the United States. While specializing in the general construction of sports facilities and synthetic surfaces, Hellas also champions innovative artificial turf manufacturing, base construction, field, track and tennis planning, installation and maintenance. To learn more about Hellas Construction, visit hellasconstruction.com.
About Ysleta ISD
Ysleta Independent School District is located in El Paso, Tx., and is the third largest school district in the city. Founded in 1915, Ysleta ISD consists of seven high schools, 11 middle schools, 36 elementary schools, two K-8th grade schools, three Pre-K centers, and 3 alternative schools. For more information, visit http://www.yisd.net.