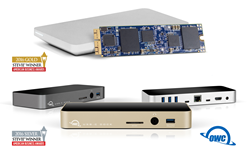 Submitting only two of their devices into the competitive New Product category, OWC earned top recognition for both of the outstanding and sought-after Aura SSD and USB-C Dock.
Woodstock, IL (PRWEB) May 14, 2016
OWC Digital®, a leading zero emissions Mac and PC technology company, has received coveted Stevie® Awards from the American Business Awards (ABA) for both the Aura SSD for Mid 2013 and Later Mac Laptops and USB-C Dock. Submitting only two of their devices into the competitive New Product category, OWC earned top recognition for both of these outstanding and sought-after products during the two-month-long voting process from an elite panel of 250-plus judges including many of the world's most respected executives, entrepreneurs, innovators and business educators.
With more than 3,400 nominations from organizations of all sizes in virtually every industry for consideration in a wide range of categories, including Startup of the Year, Executive of the Year, Best New Product or Service of the Year, Marketing Campaign of the Year, and Live Event of the Year, OWC emerged as a Gold Stevie Winner and Silver Stevie Winner for the 14th Annual ABAs, reflecting their 25+ years of continuous excellence in manufacturing and upgrade services.
Building upon the recent release of the Aura SSD for Mid 2013 and Later MacBook Air and MacBook Pro with Retina Display, the anticipated storage upgrade won the Gold Stevie Award in the category of Peripheral or Storage Hardware. For the first time, these recent MacBook models can be seamlessly upgraded with PCIe-based flash storage, providing up to eight times more storage than the factory capacity and Tier 1 flash with 7% over-provisioning. Gizmodo declares OWC Aura SSD as "hands-down fantastic."
In addition to the top prize in Peripheral or Storage Hardware, the utilitarian USB-C Dock won the Silver Stevie Award in the category of Computer, Semiconductor or Other Electronic Component for its unparalleled connectivity features using a single USB Type-C cable. As MacRumors affirms, OWC's USB-C Dock is "an impressive accessory for showcasing the potential of the current line of Retina MacBooks," bringing much needed versatility and functionality by expanding USB connectivity with its ten ports.
"We are beyond honored to be recognized for our new products, the Aura SSD and USB-C Dock," said Larry O'Connor, Founder and CEO of OWC. "These two marquee products are built to the highest standards to give hobbyists and professionals the speed, capacity and freedom to create, and OWC will continue to work to bring the best-in-class to our customers."
OWC's success at the 2016 ABAs is an extension of their commitment to constant innovation, finding incomparable ways to meet the ever-changing needs of content creators. OWC and fellow awardees will be celebrated during a gala banquet at the Marriott Marquis Hotel in New York on Monday, June 20, 2016, where all organizations in attendance will be called to the stage to accept their awards and present an acceptance speech.
About The Stevie Awards
Nicknamed the Stevies for the Greek word meaning "crowned," the Stevie® Awards are conferred in seven programs: the Asia-Pacific Stevie Awards, the German Stevie Awards, The American Business Awards, The International Business Awards, the Stevie Awards for Women in Business, the Stevie Awards for Great Employers, and the Stevie Awards for Sales & Customer Service. Stevie Awards competitions receive more than 10,000 entries each year from organizations in more than 60 nations. Honoring organizations of all types and sizes and the people behind them, the Stevies honor and generate public recognition of the achievements and positive contributions of organizations and working professionals worldwide.
About OWC
Having served the Apple community worldwide since 1988, OWC has become the reliable manufacturer and upgrade provider of choice for Apple and PC enthusiasts with its extensive catalog of accessories, storage, and memory upgrades for nearly every Mac made in the last decade found at MacSales or other resellers. Recognized for award-winning customer service, OWC provides extensive U.S.-based technical support for Mac and PC users around the world and comprehensive step-by-step installation and support videos.
###
Company Contact:
Joshua Sularski, (815) 502-5608, jsularski(at)macsales(dot)com
Press Contact:
Russell Ward, (310) 424-8356, russell(at)theconfluencegroup(dot)com