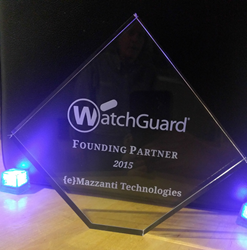 Getting network security right is critical for every organization.
Hoboken, New Jersey (PRWEB) May 17, 2016
eMazzanti Technologies, a NYC area IT security consultant and MSP, has been named a Founding Partner by WatchGuard® Technologies, a global leader in multi-function firewalls. With this announcement, eMazzanti is recognized as a key partner worldwide having excelled in ways that have strengthened the WatchGuard Technologies organization long-term.
"In conjunction with the company's 20th anniversary, we created the Founding Partners award to recognize partners who have been with WatchGuard from the beginning," stated Coletta Vigh, Director of WatchGuard Channel Programs. "In addition to eMazzanti's long history as a partner, they have gone above and beyond to elevate the quality of the relationship and to enhance our mutual success. Congratulations to the eMazzanti team for achieving this recognition."
The award was presented to eMazzanti Technologies April 19, 2016, at the WatchGuard Partner Summit in Seattle, Washington.
"Businesses of all sizes depend on eMazzanti's expert deployment and ongoing management of WatchGuard's advanced network security technology, a critical component of their organization's network defense," stated Carl Mazzanti, CEO, eMazzanti Technologies. "Being recognized as a WatchGuard Founding Partner acknowledges our long-term joint commitment to effectively meet the data security needs of our customers through our managed IT security services."
"Being one of just a few partners to receive the WatchGuard Founding Partner award is a clear reflection of eMazzanti's long term commitment to customers and protecting their most valuable resources," continued Mrs. Vigh. "Getting network security right is critical for every organization. We recognize that committed and well-trained resellers develop stronger relationships, resulting in more satisfied customers with more secure networks. We're proud to recognize eMazzanti Technologies as a WatchGuard Founding Partner and are confident that they can continue to deliver the highest level of expertise for end users in the NYC Metro area and Northeast U.S. region."
Related resource information:
eMazzanti Technologies Named First Platinum Partner by WatchGuard Technologies
eMazzanti Technologies Named 2015 US SMB Champions Club Eastern Regional Compete Partner of the Year
About WatchGuard Technologies, Inc.
WatchGuard® Technologies, Inc. is a global leader of integrated, multi-function business security solutions that intelligently combine industry standard hardware, best-of-breed security features, and policy-based management tools. WatchGuard provides easy-to-use, but enterprise-powerful protection to hundreds of thousands of businesses worldwide. WatchGuard products are backed by WatchGuard LiveSecurity® Service, an innovative support program. WatchGuard is headquartered in Seattle, Wash. with offices throughout North America, Europe, Asia Pacific, and Latin America. To learn more, visit WatchGuard.com. WatchGuard is a registered trademark of WatchGuard Technologies, Inc. All other marks are property of their respective owners.
About eMazzanti Technologies
eMazzanti's team of trained, certified IT experts rapidly deliver cloud and mobile solutions, multi-site implementations, 24×7 outsourced network management, remote monitoring and support to increase productivity, data security and revenue growth for clients ranging from law firms to high-end global retailers.
eMazzanti has made the Inc. 5000 list six years running, is a 2015, 2013 and 2012 Microsoft Partner of the Year, and a 5X WatchGuard Partner of the Year. Contact: 1-866-362-9926, info(at)emazzanti.net or http://www.emazzanti.net Twitter: @emazzanti Facebook: Facebook.com/emazzantitechnologies.