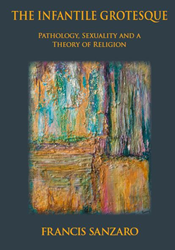 Sanzaro's lasting contributing to the childbirth debate is how he re-frames the health of a culture by how it treats its laboring mothers and the birth of its children. To that effect, this is a highly recommended read.
New York (PRWEB) May 24, 2016
A new book by Francis Sanzaro explores the complex relationship between childbirth, ecology and technology, arguing for a more expansive analysis of the often censored event.
It happens all the time—a well-meaning mother posts some non-graphic pictures of her delivery online, and finds out the next day her account has been suspended because of charges of obscenity.
According to Sanzaro's book, aptly titled The Infantile Grotesque (2016), there are deeper reasons for this, and they are not what you might think. Childbirth is, indeed, in a state of crisis, but not because of squeamishness or cultural conservatism. For Sanzaro, the reasons for birth's censorship are multifaceted, and we must look to trends in visual culture, sexuality and technology in order to better understand why the once-natural act of childbirth is so widely censored, or worse, considered to be without value (one definition of obscene art).
In fact, Sanzaro goes so far as to claim that birth images should, according to how they are treated by culture-at-large, be classified as grotesque, a term often used to describe unsettling works of art. His claim is sure to draw criticism, but to support his case, Sanzaro explores how other grotesque images are treated in art history, how memory functions in birth situations (similar to mugging victims), the numerous studies of childbirth-induced PTSD (especially for male witnesses), and how it is acceptable to publically exhibit a desiccated nude female corpse with a stillborn inside, as in the Bodies Exhibit, but it is unacceptable to televise a woman giving birth.
The Infantile Grotesque is an eclectic read, relying on the writings of Sigmund Freud, Simone de Beauvoir, Friedrich Nietzsche, and Mikhail Bakhtin as much as on The Walking Dead, Knocked Up, birth movement philosophy and the 'baby bump' phenomenon. Speaking about the bump phenomenon, Sanzaro writes, "With the 'baby bump' as the newest pregnancy motif to be splayed across the cover of Vogue or Esquire (it is really modern fertility worship), it appears that pregnancy has indeed been redefined for contemporary culture," and yet, the opposite is the case for birth. The basic premise of the book is that we currently lack an imaginative structure within which to think constructively about childbirth.
Sanzaro is not the first nor last to address this hot topic. The New York magazine recently ran an article about Facebook censoring one mother's photos, and the Wall Street Journal published a piece claiming that the crowning of a child is perhaps "Hollywood's last taboo." Feminist writers have long written about childbirth in relation to power, medicine and gender inequality.
Yet, for any reader or follower of birthing debates and controversies, it is the way childbirth censorship is framed—as a symptom of a culture in decline—that makes this book required reading for anyone seriously interested in the topic. The author observes: "We are embarrassed by birth, confounded by it, taken about by its pain, awkwardness, and struck numb by the fact that there seems to be no experience in life comparable to it, no emotion cataloged from a previous event that can come to our rescue, no horror as horrifying, no joy as joyful. In our age of absolute (real and mediated) violence, the violence captivates us, scares us, on levels equal parts material and philosophical"; "The moment birth becomes a burden, we have lost."
The Infantile Grotesque paints with broad, entertaining strokes. Sanzaro's lasting contributing to the childbirth debate, and to a philosophical theory of culture, is how he re-frames the health of a culture by how it treats its laboring mothers and the birth of its children. To that effect, this is a highly recommended read.
The Infantile Grotesque: Sexuality, Pathology and a Theory of Religion
The Davies Group Publishers, 2016.
162 pages. $24.
Fsanzaro.com