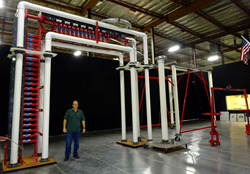 Anaheim, CA (PRWEB) May 16, 2016
DNB Engineering Inc., a full service test lab and world leader and recognized expert in certification testing, has built and opened a brand new, state-of-the-art Direct Effects Lightning Test Facility in Anaheim, California.
The new 8,000 square foot facility features all custom-built equipment designed and constructed by DNB Engineering. The unprecedented lab and equipment are able to generate all of the waveforms necessary to meet the stringent test standards for lightning threats to both aircraft and earth-bound equipment.
The indoor Lightning Test Facility features a large ground plane for high voltage attachment testing that measures 32 feet by 36 feet. The facility also includes a unique darkroom that is used for both photographic and ignitable mixture (flammable gas) test methods. Another notable feature of the facility is the dedicated Customer Viewing Area where DNB Engineering's clients can safely watch their tests being conducted.
DNB Engineering, which started out as an Electromagnetic Compatibility (EMC) test facility, has been family-owned and operated since 1979. They have been the industry's leading expert in Indirect Effects Lightning Testing for more than 30 years. The company used all of that expertise and developed their Direct Effects Lightning capabilities over a decade ago. With their new indoor Direct Effects Lightning facility in Anaheim, DNB Engineering will be able to accommodate even larger test objects for their customers.
This new facility is the latest groundbreaking investment for DNB Engineering. "This is a significant milestone in the 37-year history of DNB Engineering," said Doug Broaddus, Executive Vice President. "Our new dedicated Direct Effects Lightning Facility will enable us to meet the heavy demands of the industry more efficiently. We truly pride ourselves in meeting the needs of our customers and growing with their business."
DNB Engineering continues to lead the industry in Direct Effects Lightning Testing with their unrivaled capabilities, which include: High Voltage Attachment Testing (3.0MV Marx Generator), Swept Channel Attachment Testing, High Current Physical Damage Testing (Component A, B, C, D), Structural Testing, Component Testing and Fuel System Testing.
Additionally, the new test lab in Anaheim will be able to perform all Direct Effects Testing according to the following specifications or requirements:

RTCA DO-160, Section 23
SAE ARP5412, ARP5413, ARP5414, ARP5415, ARP5416
SAE AE4L
MIL-STD-1757 (T01, T02, T03, T04, T05)
MIL-STD-464
Meets FAA AC 20-136
EUROCAE ED-14D, ED-105
AC/AMJ20-53B, AS5830
Near Strike Lightning
High Voltage Waveforms
The new Anaheim facility is available and now open for commercial and government testing. To request a tour of the facility, please contact John Pilatos at (714) 870-7781. The Direct Effects Lightning Test Facility is located at 2311 W La Palma Ave, Anaheim, CA.
About DNB Engineering, Inc.
DNB Engineering, Inc. a full-service test lab that has been family-owned and operated since 1979. They provide Electromagnetic Compatibility (EMC), Lightning, High Intensity Radiated Fields (HIRF), Environmental, Product Safety and Regulatory Test capabilities. With four locations in California, one in Utah and another in Arizona, DNB Engineering has the facilities, certifications and the experienced personnel to meet all testing, qualification, and regulatory compliance specifications. DNB Engineering provides an excellent facility, highly trained and experienced personnel at competitive prices. The company's goal is to provide a facility for companies where they will be able to obtain a qualified unbiased third party product evaluation.