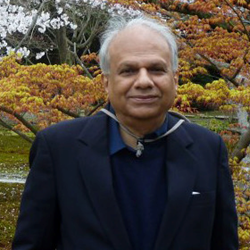 I draw broadly on my travels through Europe as a young man and the training I received in factories there, as well as the struggle to please my parents
PARIS (PRWEB) May 17, 2016
Psychology Today and NPR report from neuroscientist research that the right brained versus left brained categorization is a myth. No better example of that is businessman and author Nidhi Dalmia.
Nidhi Dalmia grew up in a business and industry environment. His father, the self-made industrialist Ramkrishna Dalmia, despite having only a middle school education, succeeded in every conceivable industry in India and passed down his business empire to his son and other family members.
Upon graduating from St. Stephen's College, Nidhi Dalmia traveled across several countries, including England, France, Finland, Norway and the United States, to learn all he could about business. Now, several decades later, Nidhi Dalmia uses not only his knowledge of the industrial world but also what he learned spiritually and experimentally in his younger years to write his first novel, Harp.
"I draw broadly on my travels through Europe as a young man and the training I received in factories there, as well as the struggle to please my parents," Nidhi Dalmia said.
Harp is a coming-of-age love story about the late 1960s, including the music, the sexual revolution and the sweeping cultural changes. It is also a peek behind the Iron Curtain and a Europe less traveled. The characters embody emotions that cross cultures, shown in the novel through the use of terms from five languages, and the story reveals the universality of human emotions and the human experience.
"I wanted to capture the hope and idealism of the times we thought would never end, growing up in the late 1960s," Nidhi Dalmia said. "Everyday life was interspersed with the music of the times, music with universal themes."
For more information, visit http://gunnidhidalmia.com/.
Harp
By Nidhi Dalmia
ISBN: 9781532933301
Available in softcover, e-book
Available on Amazon, Barnes & Noble, Createspace and LULU
About the author
Nidhi Dalmia, the son of industrialist Ramkrishna Dalmia who rose to be the head of one of the top three business houses in India, has excelled in business. The younger Dalmia has an educational background from Harvard Business School, Oxford University, the Sorbonne and Delhi University. Dalmia was on his college table tennis team at Oxford and also enjoys tennis, swimming, cinema, and theatre. He now divides his time between Delhi and Paris. Harp is Dalmia's first novel.
# # #
For review copies or interview requests, contact:
Jaymie Shook
317.602.7137
jshook(at)bohlsengroup(dot)com