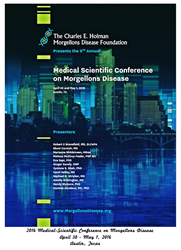 ...There's obviously tremendous interest in Morgellons disease & recognition... by the medical establishment continues to grow... Raphael Stricker, MD.
Austin, TX (PRWEB) May 17, 2016
The Charles E. Holman Morgellons Disease Foundation (CEHMDF), a non-profit advocacy group for those suffering from the medical condition Morgellons Disease (MD), today announced the record attendance of its 9th annual conference in Austin, TX with thought leaders, researchers, advocates and practitioners from at least 5 countries. Held on April 30-May 1, the annual medical-scientific event titled "Searching for the Uncommon Thread" focused on new developments in the research and treatment of the disease and provided educational updates to over 150 attendees.
"The significance of this conference is bringing together patients, practitioners, and people who are challenging medical status quo of this disease's classification and implementing strategies to recognize Morgellons for the debilitating disease that it is," said Cindy Casey Holman, Executive Director of CEHMDF, which hosted the conference along with the support of researchers from Oklahoma State University Center for Health Sciences and the University of New Haven. "Together, we are growing a shared commitment to increase awareness of this disease and to reshape the approach of clinicians and medical community at large. We need a cure. But first we need to change the hearts and minds of those who can help those suffering from Morgellons."
Morgellons Disease (MD) is a multisystem illness uniquely characterized by the formation of unusual colored fibers within the skin. The debilitating condition often includes slow healing skin/scalp lesions, intense itching/pain, overwhelming fatigue, GI disturbances and an array of neurological deficits including mood swings and behavioral changes. The condition affects people of all ages, genders and ethnic groups worldwide. There are neither grants, nor any other public or private funding to support research for Morgellons. Conference event proceeds will be used to further the CEHMDF mission.
Researchers from two esteemed universities, Oklahoma State University Center for Health Sciences and the University of New Haven as well as an international team of independent researcher-scientists delivered informative, powerful presentations throughout the weekend confirming the presence of the human pathogens Borrelia, H. pylori and Bartonella in MD patients' skin specimens. Findings presented hold a serious medical- scientific significance contributing to the strong, mounting evidence supporting Morgellons disease has an infectious etiology and challenging the accepted consensus of the medical establishment.
Recent trends in accessing the online published, peer-reviewed papers on Morgellons disease have skyrocketed. The most recent, Exploring the Association between Morgellons disease and Lyme disease, was cited by Altmetric as being the most accessed article of any article/topic for BMC Dermatology during the last year. "Based on the huge number of article views, there is obviously tremendous interest in Morgellons disease and recognition of the disease by the medical establishment continues to grow. So far, we have only scratched the surface of Morgellons disease. Let's hope that more funding becomes available so that we can find a cure for this debilitating illness," said, Raphael Stricker, MD and published author presenting via Skype from San Francisco, CA.
The conference showcased Emmy award-winning filmmaker and editor, Pi Ware, footage from his upcoming documentary "Skin Deep: The Battle over Morgellons." Ware and his crew conducted individual interviews and set up a "story booth" complete with a professional microscope allowing people the opportunity to show and tell their Morgellons realities on camera. In addition, CEHMDF partnered with Corexcel, a national leader in continuing education, to offer continuing education credit for physicians, nurses and other medical professionals seeking to learn more about the disease.
Randy S. Wymore, PhD, Associate Professor and Director of Research at OSU-CHS-CIMD (Center for the Investigation of Morgellons Disease), Eva Sapi, PhD, Professor and Dept. Chair at the University of New Haven and Jyotsna Shah, PhD, Director of IGeneX Lab, provided independent, corroborating research studies as to the infectious pathogens identified in Morgellons study subjects. These studies are being finalized for peer-review and publication while new studies are being drafted for launch in the near future.
Marianne Middelveen, the current lead Independent Researcher from Calgary, Alberta, Canada, spoke on the critical topic, Morgellons Disease: What it is... What it isn't. She reviewed and dispelled historically proposed causalities of Morgellons, explained the basis for the key characteristics/symptoms of the disease and validated current research findings.
Ginger Savely, DNP has medically managed over 800 Morgellons patients and is a world recognized expert in the condition. Dr. Savely provided attendees with an historical review of MD and a discussion on the progression of its clinical recognition, diagnosis, research and different treatment modalities throughout the years.
Amy Withington, MD, a psychiatrist in Philadelphia, Pennsylvania affiliated with Crozer-Chester Medical Center, addressed the psychological toll caused by Morgellons upon an individual's life.
Carsten Nicolaus, MD, PhD, esteemed medical provider treating patients in Europe, gave an informative presentation covering the use of a newly innovative AP. It is demonstrating promising result as an interactive tool for patient care, communication and medical management.
Eboni Cornish, MD provided an in-depth presentation surrounding medical management of Morgellons and Lyme disease. Melissa McElroy, NP from San Francisco presented a clinical evaluation of Morgellons Disease in a cohort of North American patients. Raphael B. Stricker, MD gave fascinating study results on the sexual transmission of Borrelia.
Renowned Psychiatrist, Dr. Robert C. Bransfield, explored the dark roads of Delusions of Parasitosis as related to Morgellons. He stressed that causality between infections, somatic illness and mental illness is less likely considered when diagnosing an unconventional health condition. The main impact of late-stage Tick-Borne disease is on the nervous system and not easily identifiable. Dr. Bransfield posed the possibility that many odd symptoms of MD were secondary to the root cause, that being an infectious etiology, Borrelia.
About The Charles E. Holman Morgellons Disease Foundation
The Charles E. Holman Morgellons Disease Foundation, based in Austin, TX, is a 501(c) (3) nonprofit organization committed to advocacy and philanthropy in the battle against Morgellons. The CEHMDF is the recognized authority and primary funding source for Morgellons Disease medical-scientific research. Director, Cindy Casey-Holman, RN, leads the foundation, named for her husband, Charles E. Holman, a pioneer in the fight against MD. The conference was recorded for educational purposes. DVDs will available on the foundation's website in approximately 8-10 weeks. Donations are tax deductible in the US. To learn more about Morgellons Disease go to http://www.MorgellonsDisease.org.
Bibliography
1. The Charles E Holman Morgellons Disease Foundation website.
Morgellons Disease Support | The CEHF. (2016). Thecehf.org. Retrieved 5 May 2016, from http://www.thecehf.org
2. Middelveen, Marianne J et al. "Exploring the Association between Morgellons Disease and Lyme Disease: Identification of Borrelia Burgdorferi in Morgellons Disease Patients." BMC Dermatology 15.1 (2015): 1. PMC. Web. 15 May. 2016.
3. "Altmetric – Exploring The Association Between Morgellons Disease And Lyme Disease: Identification Of Borrelia Burgdorferi In Morgellons Disease Patients". Altmetric.com. N.p., 2016. Web. 17 May 2016.
4. "BMC Dermatology". Bmcdermatol.biomedcentral.com. N.p., 2016. Web. 17 May 2016.