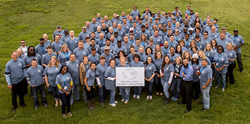 This improved environment facilitates teamwork and encourages continued development of products, practices and processes to better serve our customers and exceed their expectations. -- Tracy Tyler, President & CEO
Cambridge, Maryland (PRWEB) May 16, 2016
More than a century after opening its doors on Maryland's Eastern Shore, Cambridge International – the world's largest manufacturer of metal conveyor belts and a leading producer of architectural mesh – held a recognition event on May 5 to celebrate the company's most profitable year and the recent renovation and unification of its two plants on Goodwill Road in Cambridge.
Completed over six months, the company moved all conveyor belt and wire mesh manufacturing into its 237,000-sq.-ft. headquarters. The move included 65 employees and 37 pieces of equipment and is expected to greatly improve operations, enhance productivity and increase capacity to meet growing product demand.
During the event, Tracy L. Tyler, the 24-year veteran who has overseen a strong period of global expansion since she was named President and CEO in 2010, announced that 2015 was the most successful year in company history. Speaking to more than 200 employees, she congratulated team members for their contributions and commitment to make Cambridge the world's most dominant metal belt and mesh manufacturer.
"Our success is the direct result of the role each of you play every day to design, fabricate, install and sell our world-class products," Tyler told them. "I've never been more proud to lead this company, and I know that our best years still lie ahead."
She announced that every employee will receive a 50 percent increase in discretionary profit-sharing as a result of the strong performance in 2015.
Tyler also declared completion of the One-Maryland plant unification. Following the 1998 merger of Cambridge Wire Cloth (Plant 1) and Maryland Wire Belts (Plant 2), Cambridge International operated two separate facilities near one another on Goodwill Road.
The company has now consolidated all Maryland employees and business units under one roof. Cambridge optimized the footprint of its main building to unite the workforce, leverage synergies and strengthen operations. Renovations included a new product development area, manufacturing and process improvements, and numerous facility upgrades. Recent interior and lobby improvements include exhibits that trace Cambridge's 105-year history and highlight the company's mission, vision, values and people.
"Our upgrades and new Innovation Center inspire collaboration," Tyler said. "This improved environment facilitates teamwork and encourages continued development of products, practices and processes to better serve our customers and exceed their expectations."
Chief Operating Officer Tom Ross and Engineering Director Bob Maine oversaw the renovation. The outcomes will help to grow Cambridge's workforce, strengthen productivity and problem-solving capabilities and create better processes to meet market demands.
"Consolidating manufacturing, shipping and receiving operations allows us to further grow the business and invest those savings in technologies, training and tools that help our team compete in a global market," Ross said.
Cambridge's new 7,000-sq.-ft. Innovation Center is a dedicated product development and testing lab that includes an engineering department and test conveyors to showcase innovation and improvements to visiting clients. Engraved plaques showcasing the company's 38 active patents and trademarks line the center's walls.
Cambridge plans to sell the Plant 2 facility located at 105 Goodwill Road.
Human Resource Director Heather Hillaert closed the recognition event by announcing the company's 2015 MVPs. Selected by their colleagues, employees are recognized in five categories. The 2015 recipients are: Thomas Busch, Excellent Engineering; Tessie Hernandez, MVP Employee Choice; Nat Keene, Magnificent Manufacturing; Melissa Lewis, Outstanding Office; Irma Santos, MVP Employee Choice; and Ivan Zorn, Rookie of the Year. Each 2015 MVP received a $1,000 check.
####
The world's largest manufacturer of metal conveyor belts, Cambridge International was founded in 1911 on Maryland's Eastern Shore. With an international workforce of more than 400, the company designs, manufacturers and services innovative systems in custom metal mesh for manufacturing, food processing, filtration and architectural applications through its divisions: Cambridge Architectural, Cambridge Engineered Solutions and Cambridge En Tech.