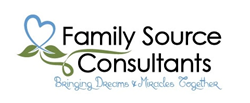 Ohio is one of the most progressive states when it comes to surrogacy, making it a great location for us to expand to
Columbus, Ohio (PRWEB) May 16, 2016
Family Source Consultants has opened a new office location in Columbus, Ohio in the Easton Town Center. The gestational surrogacy and egg donation agency, started in Illinois in 2007, has expanded to better serve their growing number of intended parents and surrogates. The office is located at 4200 Regent Street, Suite 200, Columbus, Ohio 43219.
Family Source Consultants matches and facilitates gestational surrogacy and egg donation arrangements for those wanting to start a family. The Columbus office is the agency's fifth location throughout four states.
"We are excited to grow our presence in Columbus," said Family Source Consultants Co-Founder Staci Swiderski. "Ohio is one of the most progressive states when it comes to surrogacy, making it a great location for us to expand to."
In 2007, the Ohio Supreme Court confirmed that gestational surrogacy agreements are enforceable, according the published case law J.F.v.D.B.,879N.E.2d740 (2007). The case confirmed that gestational surrogacy is not against public policy. Additionally, in Ohio, both intended parents can declared the legal parents in a pre-birth order, even if there is no genetic link to the child. 
The Columbus office will be run by Aaron Kreais, who will serve as the agency's Director of Client Development. Mr. Kreais will help educate potential Intended Parents in regards to family building via gestational surrogacy and third-party reproduction options. Mr. Kreais is a former Intended Parent with Family Source Consultants. Mr. Kreais and his husband Joshua, a former army medic, have 4-year-old boy/girl twins, Hudson and Irene. They utilized a gestational surrogate through Family Source Consultants to help build their family. Mr. Kreais is also serves on the Family Pride Network's Board of Directors.
"Family Source Consultants left such a positive lasting impression on me through my family's journey," said Aaron Kreais. "This is a great opportunity and I could not think of any career more rewarding than to help others build or start their family."
About Family Source Consultants 
Family Source Consultants is one of North America's leading surrogacy and egg donation agencies, with offices located in Ohio (Columbus),  Illinois (Chicago, Joliet), Texas (San Antonio) and Florida (Miami.) Family Source Consultants handles all aspects of assisted reproduction, whether it involves egg donation, gestational surrogacy or both. They work with traditional or gay couples and individuals of all races, religious and ethnic backgrounds. The agency's co-founders have both built their families through third-party reproduction and 75% of the agency's employees have been a surrogate, egg donor or intended parent. For more information, visit FamilySourceSurrogacy.com or call 614-944-5779.