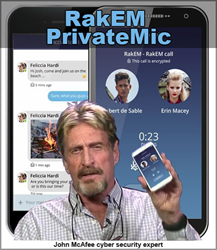 "No other messaging or calling app has PrivateMic – no one can listen in on my calls on RakEM." John McAfee
New York, NY (PRWEB) May 17, 2016
Rakem launches its Android PrivateMic application for secure, encrypted and private calling services. The updated Android app provides Rakem's unique PrivateMic feature. With PrivateMic, Rakem prevents other apps on the Android device from accessing the microphone while in a call. Even if a user has unknowingly downloaded an app that listens to the microphone, which could be recording conversations while the user is unaware, PrivateMic stops these apps from listening while in a Rakem call – your conversation cannot be listened to or recorded by unwanted and unauthorized apps. Rakem PrivateMic works on any Android device – no need to purchase a proprietary phone like Blackphone for making calls.
"When I want to send private messages and make private calls, I use Rakem," said John McAfee, cyber security expert and pioneer, and presidential candidate. "No other messaging or calling app has PrivateMic – no one can listen in on my calls."
Rakem uses true end-to-end encryption - you can rest assured that only you and the intended recipient can listen to your conversations.
The key features of Rakem include:

Encrypted text, pictures, video, emoji, animated emoji and even doodling and doodling on pictures
Encrypted Group Live Chat and Post - Unlimited members in groups
Encrypted Group Calling – up to 5 members at a time
Encrypted Voice and Video calling
Encrypted Voice and Video attachments
Encrypted Location sharing and who's near display
RakemSphere interface – interactive 3D sphere of friends interface (no VR goggles required)
Reciprocal deletion of messages – deletes off your phone and the recipients phone
Highest levels of end-to-end encryption
Direct device-to-device communications – no servers
Today, Rakem announces the availability of the Android PrivateMic version. Rakem is also available on iOS, Windows and Mac.
"Rakem created PrivateMic which prevents other apps that try to access the Android microphone while in a call from listening in." said Greg Parker, President and CEO of Raketu. "In this way, on a standard Android, we have removed the possibility of our users being listened to by apps that secretly listen in on conversations that users don't know about. Removing the need to purchase any special device like a Blackphone for making calls."
Rakem runs over any internet connection. Anyone with data services on Android, iOS, Windows or Mac OS can download and start using Rakem immediately. Rakem Android with PrivateMic is available for download from Google Play Store.
About Raketu Communications Inc.
Raketu Communications Inc. makes highly secure, cross platform messaging and communication fun by developing leading edge device-to-device direct Internet protocol applications for consumers and for business across mobile devices, tablets, desktops and laptops. Powered by Raketu's patent-pending Serverless Secure™ encryption technology and system architecture, Raketu's RakEM mobile messaging platform supports text, voice, video, and photo, among other private and encrypted messaging media. The company currently has users in over 150 countries around the world. For more information visit the company's website at http://www.Raketu.com.
Raketu is a registered trademark of Raketu Communications Inc.
Media Contact:
pr(at)raketu(dot)com
# # #