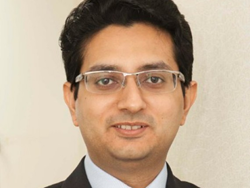 Austin, TX (PRWEB) May 17, 2016
Flux7, an IT consultancy providing cloud architecture and migration services and solutions to help businesses modernize their IT practices, today announced that its co-founder and CEO, Aater Suleman, will present at the DevOps West Conference held June 5–10, 2016 in Las Vegas, NV. He will present on the topic of Docker containers in the enterprise DevOps journey.
He will specifically address how DevOps can enable efficiency through improved collaboration between product management, development, release management, quality assurance, information security, and operations via cross-functional technologies that benefit all departments. By this definition, Docker may well be the most important tool in the DevOps toolbox as it allows empowering and permeable interfaces to be built between different departments throughout the DevOps loop. In his presentation, Mr. Suleman will explore the Dev and Ops tracks of three companies and examine advantages that were achieved using Docker containers, as well as how organizations can empirically track their progress using five key performance indicators.
When: Mr. Suleman will speak Thursday, June 9, 2016 from 10:00am to 11:00am.
Where: DevOps West is held in conjunction with the Agile Dev and Better Software Conferences which will be held at Caesars Palace in Las Vegas, NV.
Who: Aater Suleman is CEO and co-founder of Flux7, a Docker Authorized consulting partner and one of eight original Docker foundation partners. Mr. Suleman combines his hardware and software development background to creatively and practically design modern infrastructure and to help enterprises create their own centers of DevOps excellence. Mr. Suleman also teaches computer systems design and architecture at the University of Texas at Austin.
ABOUT FLUX7
Flux7 architects cloud infrastructure frameworks that help businesses to modernize and optimize their IT systems, bridging the gap between a managed environment and independent system management. We enable companies in a wide variety of industries around the world to quickly create production-ready, secure, compliant and highly scalable environments by using automation, DevOps and best practices from hundreds of implementations. Unlike other cloud consulting groups, Flux7 emphasizes the transfer of knowledge to internal IT teams, helping them to become self-sustaining and improving their agility. For more information, please visit http://flux7.com