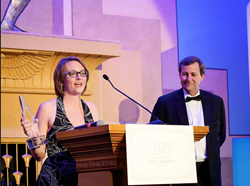 Our team is driven by a desire to #makenews and #driveleads for our high growth tech clients
Atlanta (PRWEB) May 18, 2016
One of the nation's fastest growing technology public relations and integrated communications agencies, AR|PR, today announced that it has won or been named a finalist for 10 prestigious awards since the beginning of 2016. Validating AR|PR's 360-degree integrated communications approach, awards were earned for a diversity of client initiatives including event marketing, media relations, technical content writing and lead generation, which won 'First Place' in a highly competitive category. The Atlanta Business Chronicle also named AR|PR a Pacesetter, a distinction given annually to the city's top 100 fastest growing private companies.
1H 2016 Awards:
Atlanta Marketing Association AMY Awards
➢ Winner for lead generation and SEO on behalf of AssureSign
➢ Runner-Up for event marketing at Consumer Electronics Show (CES) under 100k budget on behalf of Fitnet
➢ Runner-Up for event marketing at RSA (cybersecurity conference) under 100K budget on behalf of NexDefense
Hermes Creative Awards
➢ Platinum (1st place) Award for corporate blog writing on behalf of Invoiceware International
➢ Platinum (1st place) Award for media relations rapid response on behalf of KidsLink
➢ Gold (2nd place) Award for whitepaper publication on behalf of Hull
➢ Honorable Mention for technical writing on behalf of NexDefense
➢ Honorable Mention for media relations (magazine placement) on behalf of Sandboxx
Atlanta Business Chronicle Pacesetter Awards
➢ Named 2016 Pacesetter as Atlanta's 74th fastest growing company based on revenue and job creation
Silicon Bayou 100 – Top People in Louisiana Tech
➢ Awarded to Blair Broussard, AR|PR vice president
"Our team is driven by a desire to #makenews and #driveleads for our high growth tech clients," said Anna Ruth Williams, AR|PR founder and CEO. "Everyday we come to work with a focus on landing headlines, creating buzz-worthy content, implementing social campaigns and optimizing digital platforms. So, it's incredibly rewarding to have our work, on behalf of our clients, recognized by such prestigious organizations. It's a testament to how well-rounded and passionate our team is."
To learn more about AR|PR's current client roster, awards and services, and read our recent tech marketing resources, visit http://www.arpr.co.
About AR|PR
As one of the nation's fastest growing technology PR firms and the 2014 National Small Agency of the Year, AR|PR is a results-driven public relations and integrated communications agency for technology leaders and innovative startups. With a passion for telling technology and entrepreneurial stories, AR|PR cultivates strategic partnerships with its high-growth tech clients. From early-stage startups to mid-sized enterprises, AR|PR helps companies within the cybersecurity, energy, health IT, mobility and Software-as-a-Service (SaaS) industries cut through the noise and clutter to #makenews. For more information on the award-winning agency, visit their offices in Atlanta and New Orleans, and online at arpr.co and @AR__PR