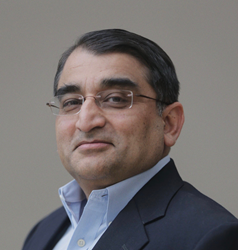 Sell-in management is often easier, but tends to mask channel problems..
Seattle, WA (PRWEB) May 22, 2017
Entomo Inc., a leading provider of channel revenue management software and services, announced today that CEO Sanjoy Chatterji will present at this year's Channel Visionaries Conference, being held June 2-3 in Santa Clara, CA. The Channel Visionaries conference draws global channel leaders in order to share the best practices, industry trends and case studies.
Chatterji's session is entitled, "How Operationally Excellent Companies Manage Their Channel." In his discussion, Chatterji will describe how companies that emphasize operational excellence are increasingly managing their channels on a "sell-through" basis, even if they continue to use sell-in for accounting purposes.
"Sell-in management is often easier, but tends to mask channel problems," said Chatterji. "Revenue and receivables are not final as long as partners have rights of return, or the ultimate sale price is not determinable due to rebates and other back-end discounts and promotions. As a result, the best performing companies operationally manage their channels on a sell-through basis, regardless of how they recognize revenue from an accounting perspective."
About Sanjoy Chatterji
Sanjoy Chatterji founded Entomo and brings more than 25 years of technology and executive management expertise to the company. Before Entomo, he was Founder and President of the Trinetra Consulting Group, which worked with early-stage growth companies in the areas of business development and market and product strategy. Prior to Trinetra, Sanjoy was VP of Software & Systems at Philips Electronics' ATL Ultrasound Division. He was a member of the turnaround team that revitalized and repositioned ATL (then a publicly-traded company) and boosted market cap from $250 million to $850 million, resulting in an eventual acquisition by Philips. Previously, he was an early employee at Sequoia Systems, where he served in a variety of positions and helped the company grow through an IPO to several years as a public company. He holds a Master's of Engineering in Computer and Systems Engineering from Rensselaer Polytechnic Institute and a BS and MS in Computer Science from BITS, Pilani, India.
About Entomo
Entomo is a leading provider of cloud-based channel management software and services. Entomo helps businesses effectively manage distribution channel complexity to maximize revenue, reduce costs, improve partner performance and collaboration and ensure compliance at all levels. Entomo's SmartHub® is the industry's most flexible, scalable, and comprehensive enterprise channel management platform, enabling automation and simplification of all channel-related workflows and processes, and seamlessly integrates with leading ERP and CRM systems. Entomo is SSAE16-compliant and supports the channel management activities for global enterprises including Broadcom Corporation, Dolby Labs, Elo Touch Solutions, Keysight Technologies, Kingston Technology, Microsemi Corporation, Toshiba, Qorvo Inc., and Targus International. Entomo is privately held and headquartered in Bellevue, Washington, with offices in the Silicon Valley, Asia, and Europe.