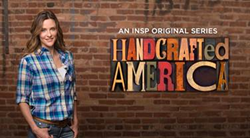 Indian Land, SC (PRWEB) May 17, 2016
INSP, the recognized leader in family entertainment, has announced a 2nd season order of 13 episodes of Handcrafted America. Production begins this summer and the premiere is scheduled for October. The announcement was made by Doug Butts, SVP of Programming for INSP.
"The inaugural season of Handcrafted America generated a genuine outpouring of support from our loyal viewers who embraced the series from the beginning," said Butts. "What seemed to resonate most is the connection they felt to the artisans; their stories, their talent, their creations. Audiences feel that the journey is just beginning, that there are many more talented artisans they'd like to meet. We are on a quest to find them in Season Two."
Jill Wagner (Christmas in the Smokies, Teen Wolf, Wipeout) returns as host. "Jill's infectious enthusiasm has captivated viewers," said Butts. "With her engaging personality, she brings incredible energy to each program. She is so natural, and all the artisans can sense her genuine interest in their products and the stories they have to tell. She is perfect for this series." Susie Films will continue to co-produce the series.
###
About INSP
INSP is available nationwide to more than 80M households on more than 2,800 cable systems. Click here to find INSP in your area. For quality dramas, positive entertainment and inspiring stories, celebrating the American spirit and honoring timeless traditional values, it's INSP.
About Susie Films
Susie Films is a full service film and television production company based in Charlotte, NC. The company has produced and executive produced more than 800 television programs for networks including ABC, A&E, Cooking Channel, Court TV, DIY, ESPN, Food Network, HGTV, History Channel, Lifetime, Ovation, OWN, PBS, Travel Channel and Turner South.
Contact: Tara Brown
tara.brown(at)insp(dot)com
803-448-2698