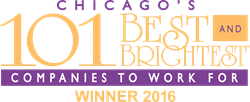 Our people truly are our most valuable asset and we continue to make employee development, engagement, and work-life balance a top priority.
Chicago, IL (PRWEB) May 18, 2016
Every year, companies throughout Chicago compete to be named one of "Chicago's Best and Brightest Companies to Work For® ." Only companies that distinguish themselves as having the most innovative and thoughtful human resources approach can be bestowed this honor. Maven Wave is honored to be recognized by the National Association for Business Resources (NABR) for the 3rd consecutive year as one of Chicago's "Best and Brightest Companies to Work For."
The 2016 winning companies were assessed by the NABR, an independent research firm who evaluated each company's entry based on key measures in various categories. They include Compensation, Benefits and Employee Solutions; Employee Enrichment, Engagement and Retention; Employee Education and Development; Recruitment, Selection and Orientation; Employee Achievement and Recognition; Communication and Shared Vision; Diversity and Inclusion; Work-Life Balance; Community Initiatives; and Strategic Company Performance.
"We are thrilled that our dedication to hiring and retaining outstanding people has been recognized by our employees as well as the local Chicago business community. As a company focused on digital transformation, Maven Wave has embraced a digital culture by listening to our employees and implementing changes to keep them learning, challenged, and engaged. Our employees are the key to our success," says Shana Sternstein, Head of Talent Acquisition and Development.
For Maven Wave, the people truly are the most valuable asset and the leadership team continues to make employee development, engagement, and work-life balance a top priority. As an example, in 2016 the company stopped the practice of annual reviews in exchange for nimble coaching sessions and performance check-ins throughout the year. Employees wanted a more empower-and-collaborate digital tool for development and feedback and HR successfully made that happen.
"Profitability and stability is essential for businesses in today's economic climate. Companies that recognize that their employees are the key to their success achieve staying power. Our 2016 winners create their human resource standards to ensure employee satisfaction and they set standards for every business to aspire toward," said Jennifer Kluge, President and CEO of MBPA. "We are proud to honor this year's winners."
View all of the 2016 winners here.
About Maven Wave
Maven Wave is a hybrid of the experience you get from top-tier consulting and the agility you'd expect from a cutting-edge technology firm. Our solutions capitalize on the evolution of digital technology trends that are social, mobile, rooted in analytics, and built in the cloud.
About the Best and Brightest Companies to Work For®
The Best and Brightest Companies to Work For® Business Resources that provides the business community with the opportunity to gain recognition, showcase their best practices and demonstrate why they are an ideal place for employees to work. This national program celebrates those companies that are making better business, creating richer lives and building a stronger community as a whole.