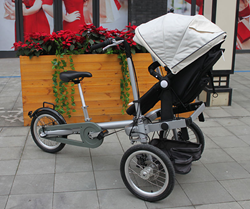 (PRWEB) June 15, 2016
The days of having to choose a bike ride vs taking the stroller are long past. This unique Bicycle-Stroller Mashup, Meteo from Babyroues, features the best of both worlds. With the 3 adjustable child seat positions, including the patent pending reversible child seat position, the Meteo is designed for maximum comfort for both rider and baby. Need more than one seat? Meteo has you covered. It is designed to comfortably carry two children at once.
The Meteo boasts a sleek high finish aluminum alloy and has a Shimano nexus inter-3 internal gear hub, one of the highest quality gears, yet easy to use. Disc brakes on both front wheels and a shimano nexus roller rear brake allow for a safe and comfortable ride. The 16" double rim wheels will effortlessly absorb any bumps that the rider and child might encounter during their ride. With a stroller seat that can also convert to a bassinet, riders have everything in one easy to transport bicycle.
Specializing in luxury strollers that are trendy and functional at an affordable price, Babyroues has many strollers to meet parent's needs. Looking for a luxurious stroller with amazing features? The Letour Avant, Letour Avant Luxe, Letour II, and Letour Lux II are compact and lightweight, with 4 different reclining seat positions. The included interchangeable bassinet and stroller seat have dual-facing abilities and feature a one-handed open and an easy fold while either bassinet or seat are attached. At just 20 pounds, these strollers are very light weight and designed to grow from infant-to-toddler. Each stroller has its own unique features that are sure to meet the needs of any parent.
For more information on the Meteo as well as other Babyroues offerings, please visit babyroues.com.
ABOUT BABYROUES
Founded in 2012, Babyroues is dedicated to excellence. They seek to innovate with the highest technological advances for mom's and baby's comfort, while at the same time giving customers great value. With more than 30 years of experience in the manufacturing of baby strollers, Babyroues always look forward to newer innovations in meeting customers' needs.