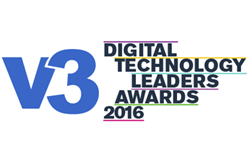 "We are thrilled and honored to be recognized by V3 as one of the best places to work in digital." ~ Christian Blume, CEO, cleverbridge
Cologne, Germany (PRWEB) May 18, 2016
cleverbridge, a global subscription billing provider, announces V3 has named cleverbridge a finalist for two 2016 V3 Digital Technology Leaders Awards. cleverbridge is a finalist in the Best Place to Work in Digital: Small and Medium-sized Enterprises (SMEs) category and front-end developer Steph Milovic is a finalist in the Product Manager of the Year category. The awards focus on four top line criteria: digital innovation, digital excellence, measurable benefits to the organization and measurable benefits to intended end users. Winners for each of the fourteen award categories will be announced at a gala event on June 23 at Montcalm Hotel in London.
The V3 Digital Technology Leaders Awards recognize the achievements of the individuals and companies who are innovating on the front line of the digital technology stack: from website design and coding to UX and project management, from scrum masters and product managers, all the way up to the Chief Digital Officer. The Best Place to Work in Digital award celebrates the organizations that possess a digital culture that embraces employee ideas; training and supporting staff development on digital skills; retaining and developing digital staff; and are working to remove organizational silos to push a clear digital strategy.
"We are thrilled and honored to be recognized by V3 as one of the best places to work in digital," said Christian Blume, CEO, cleverbridge. "As cleverbridge has continued to grow as a global organization over the last 11 years, we've spent more time and energy continuing to foster a strong company culture that ensures our employees can grow at both a personal and professional level. I view this award, and the recognition of Steph and the front-end team, as a testament to those continued efforts and to our employees who make this a great place to work."
The Product Manager of the Year award recognizes individuals delivering innovative digital products or services and defining the future of their organization's digital approaches, from business processes to customer outcomes. In 2015, Steph Milovic and the cleverbridge Front-end Development team designed a new online shopping cart that would become the basis for all new checkouts moving forward. Created using Sass (Syntactically Awesome Style Sheets) and the modern front-end build systems that support it, Milovic's work streamlined the cleverbridge front-end code base, improved clients' site performance and reduced style sheet lengths from 10,000+ lines of code to just around 2,400. The project effectively cut development time for a shopping cart in half, increasing the efficiency of the entire Front-end Development team by 200 percent. Most recently, Milovic leveraged the modularity of Sass in developing a ReactJS app, aptly called Swapify, which gives clients full control of a shopping cart's Sass variables and partials. Freeing up clients, client managers and sales representatives to pick out their own style combinations, Swapify can power over 50 million unique cart design variations.
"I'm honored and humbled to have been selected for this prestigious award, among the other distinguished and outstanding technology innovators," said Milovic. "I've been fortunate to have an incredible team and support system at cleverbridge that has led to success and growth. This award validates the effort of our team and cleverbridge's empowering leadership style and foundation for employee, client and overall company success."
Since its founding, cleverbridge has focused on fostering a strong company culture as a global organization, which has resulted in a great deal of industry recognition. The company was named No. 20 on the 2016 Top German IT Employers list; a 2015 Red Herring Top 100 Europe award finalist; and National Champion representing Germany in the 2014/15 European Business Awards' Employer of the Year Award category. cleverbridge's Chicago office was also named to Chicago Business Journal's Best Places to Work Awards, Crain's Chicago Business' Coolest Offices and Brill Street's Top 50 Employers for Gen Y Emerging Talent in Chicago.
To view the 2016 V3 Digital Technology Leaders Awards finalists, visit http://events.v3.co.uk/digitalleadersawards. To learn more about cleverbridge, please contact inquiry(at)cleverbridge(dot)com
About cleverbridge
cleverbridge provides global subscription billing solutions that help companies build long-term customer relationships and grow recurring revenue streams. With its flexible, cloud-based billing and monetization platform, cleverbridge integrates seamlessly with client systems, simplifies subscription business models and delivers an optimized online customer experience. Leveraging cleverbridge expertise, technology and services, clients monetize products and services more effectively, rapidly expand their global subscriber base and maximize customer lifetime value. Headquartered in Cologne, Germany, cleverbridge has offices in Chicago, San Francisco and Tokyo. For more information, visit http://www.cleverbridge.com.