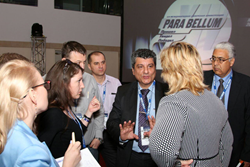 We've had wonderful success over our first 10 years, and we have big plans for the next decade as well.
East Setauket, New York (PRWEB) May 30, 2016
In April of 2016, PENETRON Hellas, our team in Greece, celebrated 10 years of success. PENETRON Hellas General Director and Managing Partner, Theodor Mentzikofakis, looks at how his team manages a successful business in a difficult environment.
PENETRON Hellas began operations in 2006 with a small team headquartered in Athens. Today, this team oversees more than 120 sales outlets across a territory that includes all of Greece and Cyprus and, more recently, a larger region of southeastern Europe.
Dealing with economic meltdown
In recent years, the headline-grabbing economic crisis in Greece presented formidable challenges to the PENETRON team. The Greek economy shrank by a quarter and unemployment climbed beyond 20%. For companies in the construction industry, this has led to big changes.
"It was clear we had to adjust to a dire situation: becoming more flexible, responding to customer demands more quickly, and continually adapting the company strategy to take advantage of any new business opportunities," notes Mr. Mentzikofakis. "After a difficult phase, we bounced back; last year alone we grew our business by 30%."
SUCCESS FACTORS
A key aspect of recovering from such hard times is our strong brand. PENETRON Hellas, as part of the PENETRON International network, offers a recognized line of crystalline products, leverages a superb global tech support and sales network, and advises dealers on maintenance, sales leads and marketing campaigns, including trade shows, hand-outs, and ads. The local team supports the association of engineers in Greece and enjoys good relationships with a number of Greek scientific organizations and educational institutions.
"We also stay in touch with architects, planners, construction managers, state regulators and zoning authorities through our participation in seminars and conferences," adds Mr. Mentzikofakis.
WORKING WITH CLIENTS
Customer support is a strong component of the PENETRON Hellas organization. The PENETRON academy has trained thousands of concrete professionals about crystalline waterproofing applications, which helps clients with effective and sustainable solutions. This can cover everything from consulting on a project's development stage to conducting specific laboratory tests and, if necessary, doing a special seminar on the spot.
"This part of our business has grown into something like a tech support SWAT team with a dedicated service truck equipped with all the necessary products, tools and tech support experts – all ready to go on emergency calls," says Mr. Mentzikofakis. "It's important to us to be able to help clients in extreme situations. And we've had excellent feedback and success with this service."
WHERE DOES PENETRON ENJOY THE GREATEST SUCCESS?
"A key area is public water supply, as water is a precious commodity in our area, and we've been busy waterproofing wastewater treatment plants. Our materials are increasingly popular in other areas; closer to home, we're negotiating a project with a state water utility and we're working on a number of luxury hotel projects. We're also involved in the construction of a new stadium project and private homes on the coast. In Romania, we helped solve an underground waterproofing problem, leading to a report in the Romanian newspapers on how, after 20 years, the metro is finally dry! Another showcase project was the drinking water reservoir of the Romanian parliament building, better known as the 'Palace of Ceausescu.'"
WHAT'S NEXT?
PENETRON Hellas will open a new training facility and tech support center in 2016. On the sales front, we see even more projects emerging in new regions.
"We've had wonderful success over our first 10 years," concludes Mr. Mentzikofakis. "And we have big plans for the next decade as well."
The PENETRON Group is a leading manufacturer of specialty construction products for concrete waterproofing, concrete repairs and floor preparation systems. The Group operates through a global network, offering support to the design and construction community through its regional offices, representatives and distribution channels.
For more information on PENETRON waterproofing solutions, please visit penetron(dot)com or Facebook(dot)com/ThePenetronGroup, email CRDept(at)penetron(dot)com, or contact the Corporate Relations Department at 631-941-9700.