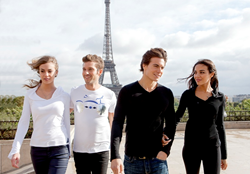 We want to communicate the DESIRE to improve posture, together with a beautiful shirt which is active and efficient
New York, NY (PRWEB) May 18, 2016
UpCouture, the shirt specifically designed to improve posture and presence with a stylish design and revolutionary built-in features, today launches its crowdfunding campaign on Kickstarter.
More than 80% of adults tend to slouch, but no one really wants to be reminded to stand/sit up straight until it's too late (back pain, migraine, etc). That's why UpCouture has invented fashionable active clothing to improve posture with pleasure.
"We want to communicate the desire to improve posture, together with a beautiful shirt which is active and efficient," said UpCouture founder, Neda Naef.
The Up T-shirt and UpCouture Dress Shirt integrate a unique patented system of elastic resistance technology that pulls shoulders back when slouching, physically reminding its users to straighten up. Perfectly comfortable, and designed to turn heads with its fashionable look, the UpCouture shirt is the first of its kind to do more than just look great.
When the person wearing the UpCouture shirt slouches, they'll feel the elastic resistance that pulls shoulders back. To stop feeling the resistance, users straighten up and exercise their back muscles.
When standing or sitting up straight, the UpCouture Shirt is perfectly comfortable because the elastic resistance is built in between layers of soft organic cotton and finds its neutral position when the wearer has good posture.
The unique patent approved shirt for men and women has already caught the attention of health professionals because of its special, built in powers.
"The UpCouture shirt is a preventive and curative product that is interesting for a large portion of the population, such as people who are sitting a lot," said physiotherapist Maxime Le Pennec.
Manufactured in France with beautiful material, UpCouture was given the official label of Excellence by the French Institute of Design. Made of organic cotton, it comes in various sizes and assorted colors so the UpCouture shirt can be worn in all situations from the gym, to the office and even a night out on the town.
The UpCouture shirt is available for pre-order on Kickstarter with special early bird pricing. For more information and to pre-order UpCouture visit: https://www.kickstarter.com/projects/upcouture/upcouture-worlds-first-perfect-posture-fashion-shi
ABOUT UPCOUTURE
"I was finding poor posture was more comfortable than good posture, especially when working on the computer," said Upcouture founder Neda Naef. Neda was in fact working as an attorney-at-law, drafting a lot on the computer. "I was thinking, wouldn't it be nice to have a nice-looking shirt that could physically remind me to improve my posture?"
After a two year process of research and design, UpCouture was created. UpCouture designs clothing that:
1. makes users to stand straight and feel good about themselves
2. trains users to work back muscles
3. is environmentally friendly
Already thousands of Up T-shirt have been sold, for both Men and Women. UpCouture has become a specialist in creating high quality technical clothing in organic cotton. It now has the right manufacturing partners, in order to deliver the "shirt that is your back's best friend" in an exquisite quality and design.