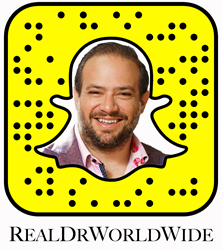 "My followers are people who are genuinely curious about cosmetic transformations - and who love to see just how significantly we can improve a person's appearance."
El Paso, Texas (PRWEB) May 26, 2016
Behind the Snapchat screen name of "RealDrWorldWide," Dr. Agullo recently started broadcasting daily surgeries for his social media followers to see. The tool even makes it easy to meet new members of the team and find out about the everyday activities that take place in his office. Some chats are simply educational in nature, explaining types of procedures and the methodology that Dr. Agullo prefers to use for them. Others are more extensive – showing clips of real surgeries. And surprisingly to some, his patients are enthusiastic about having their procedures shared with the world.
Subscribers to his channel can see updates, before and after pictures, and portions of real surgeries several days a week. His Snapchat followers also have the opportunity to ask questions about specific types of plastic surgery to learn more about the actual process. And Dr. Agullo even answers them during real surgeries!
"I want to bring what I do into the homes of individuals who have always been curious about plastic surgery, but aren't ready to call a doctor up for a real-life consult," says RealDrWorldWide, "My followers are people who are genuinely curious about cosmetic transformations - and who love to see just how significantly we can improve a person's appearance." He goes on to say that many of his followers never plan to have plastic surgery at all, but find what he does so intriguing that they have become religious social media followers.
A board certified plastic surgeon since 2009, Dr. Agullo performs a comprehensive line of cosmetic and plastic surgery services to both men and women. Some examples of RealDrWorldWide Snapchat videos include information on Brazilian butt lifts, buttock implants, mommy makeovers, breast lifts, cellulite removal, rhinoplasties, and plastic surgery myths.
You can find Dr. Agullo on Snapchat: https://www.snapchat.com/add/realdrworldwide, as well as on Twitter @dragullo, Instagram @realdrworldwide, and Facebook @agulloplasticsurgery. His exclusive Snapchat account allows his followers to view more extensive surgery clips, before and after shots, and interact with him for Q&A sessions. It's perfect for social media followers who want to learn more about plastic surgery procedures or find real life makeovers intriguing.
Follow Dr. Frank Agullo on Snapchat as RealDrWorldWide, or visit him in person at Southwest Plastic Surgery in El Paso, Texas.