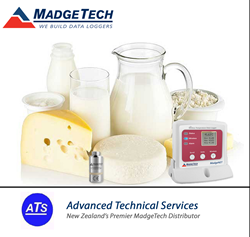 (PRWEB) May 18, 2016
Entering their tenth year of business, Advanced Technical Services began by using MadgeTech data loggers for validation and calibrations, but quickly expanded their data logger offerings as demand continued to increase in other industries. Today, Advanced Technical Services offers MadgeTech data loggers for many industries including energy monitoring, cooking and cooling during food processing, warehouse mapping and most recently dairy monitoring for compliance with changing MPI regulations.
For many dairy processing applications that require temperature monitoring, ATS offers the rugged and diverse HiTemp140-M12 Data Logger. Designed with M12 connectivity, probe styles are interchangeable, making the HiTemp140-M12 a flexible option that can satisfy a variety of different applications with a single logger. Available M12 probe options include RTD clean in place (CIP) probes which are ideal for monitoring cycles in sanitary applications, commonly found in dairy or pharmaceutical processing environments. In addition, many M12 probes on the market can be used in conjunction with the HiTemp140-M12 Data Logger.
Also available to the dairy industry are wireless data loggers for monitoring dairy sheds. MadgeTech wireless loggers can connect directly to the MadgeTech Cloud for around the clock monitoring from any internet enabled device. Using the new RFC1000 Cloud Relay, a computer is not required and data is transmitted directly to the MadgeTech Cloud for instant access remotely from any smartphone or mobile device. The MadgeTech wireless system can be used in virtually any industry where environmental parameters need monitoring and is scalable for facilities large or small.
As regulations become stricter and monitoring requirements evolve in New Zealand, MadgeTech, in conjunction with Advanced Technical Services, will continue to bring cutting edge technologies and expertise to the data logging industry for years to come.
To learn more about MadgeTech data loggers and products sold in New Zealand, contact Advanced Technical Services.