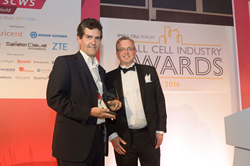 Node-H is delighted to receive this award in recognition of our dedication and expertise in achieving interoperable solutions
London, UK (PRWEB) May 19, 2016
Node-H GmbH, the leading supplier of small cells software technology, has won the Chairman's Award at the annual Small Cell Industry Awards. The award is given by the Chairman of the Small Cell Forum to recognize a significant contribution to the small cell industry. Dr. Alan Law of Vodafone, the Chairman, announced the award at the Small Cell Industry Awards dinner during the Small Cells World Summit in London on the 11th of May.
The award was given to recognize a significant contribution to the work of the Interoperability Group of the Small Cell Forum. Interoperability allows equipment from different vendors to work seamlessly together. Node-H has been an active participant in the Small Cell Forum's Interoperability program. Node-H has worked within the program and through direct co-operation with other vendors to test Node-H's small cell software in a wide range of end-to-end system environments.
"Interoperability is a key expertise which is required in order to achieve wide-scale small cell deployment and choice for operators", says Mike Cronin, CEO of Node-H. "Node-H is delighted to receive this award in recognition of our dedication and expertise in achieving interoperable solutions."
Node-H participated in the Small Cell World Summit conference and showcased its UMTS/LTE dual-mode enterprise solution, as well as presenting a Seminar to explain how the Node-H SON technology results in zero-touch deployment of LTE and UMTS enterprise and residential small cells.
Node-H software is deployed in millions of small cells worldwide. Demonstrations of Node-H small cell features can be viewed at the Node-H website http://www.node-h.com/showcase.html.
About Node-H
Node-H GmbH is a pure-play small cells software company covering UMTS, LTE and dual-mode small cells technologies for residential, enterprise and public small cells. The company's portable software runs to the maximum platform capability on the leading chipset platforms. The high-performance, fully integrated software was designed for cost-optimized SoC small cells platforms to help device manufacturers achieve fast time-to-market with a high-quality solution. Node-H is a member of the Small Cells Forum. Node-H is privately funded and based in Munich, Germany. For more information about Node-H, please visit http://www.node-h.com.