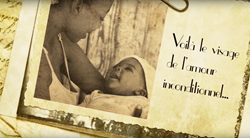 I've been using this service for the past year to make international calls to Haiti and the voice quality has been fantastic. (Jean on Trustpilot.com)
Atlanta, Georgia (PRWEB) May 20, 2016
Haitians worldwide celebrate Mother's Day this May on "I <3 Haiti" Facebook page powered by SalutHaiti.com. Besides a touchy movie that depicts family moments, Haitians can join a contest that will bring one of them free mobile credit to call Haiti. The video and the event will be launched on Facebook starting May 23, 2016: https://www.facebook.com/SalutHaiti/
The emotional marathon about Haitian mothers will take place between May 23-26 on the "I <3 Haiti" Facebook page, and the winner of the free calling credit will be randomly picked among the participants and announced on Friday, May 27, 2016. The prize consist of up to 50 minutes for free to call Haiti. In other words, $10 Voice Credit, that never expires.
The prize can be used to call Haiti using one of the methods available on SalutHaiti.com:
-Calls can be made using KeepCalling app free to install on Android and iOS
-Calls can be made with no Internet using access numbers
-Calls can be made from PC to any phone, via Web Call desktop app
The contest and movie address all Haitian Facebook fans and new visitors who want to enroll for the gift, or those who take the challenge of stoping for a moment to talk about their moms in a comment to the video launched on May 23 on this page: https://www.facebook.com/SalutHaiti/
Those who have seen the video especially created for Haitian Mothers described it as "touchy." It promises to provoke Haitians in the diaspora to a moment of nostalgy and awareness. The production team announces that "the footage is a gift and a challenge for the viewer. Its aim is to allow people to go through important moments in one's childhood and add realistic value to the relationship mother-son or mother-daughter."
Reactions are more than welcome from the expat community on the Facebook page: https://www.facebook.com/SalutHaiti/
Besides Voice Credit that never expires, SalutHaiti.com makes available the international online top ups to Haiti. It only takes a minute at most to fulfil the purchase, yet the only condition is to have an account on SalutHaiti.com, which costs nothing and it comes with several free features and offers. With the Mobile Recharge service, expats abroad can send as little as $5 mobile credit to their friends and relatives in their native country. They can pay in any currency, according to the country they live in at present. PayPal is accepted besides any major credit or debit card displayed in the footer of SalutHaiti.com.
SalutHaiti.com is an interactive website designed for Haitian diaspora by KeepCalling, a global telecommunications company registered in 2002 in USA. Presently, KeepCalling provides its services to hundreds of thousands of consumers and businesses, with a focus on customer satisfaction. KeepCalling has been listed by Inc 5000 as one of the fastest growing companies in the USA for 5 consecutive years. In 2015 the company registered a revenue increase of over 200% from 2011 to 2014.