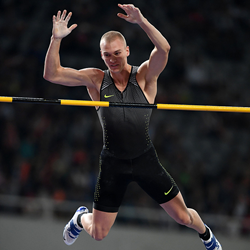 It took a great vaulting pole to accomplish this goal," said Sam Kendricks.
Fort Worth, TX (PRWEB) May 18, 2016
UST-ESSX today announced that Sam Kendricks won last weekend's IAAF Diamond League Shanghai Golden Grand Prix, held at Shanghai Stadium in China, using a UST-ESSX Recoil™ Special Edition pole to become the first American man to win a Diamond League pole-vaulting competition. Kendricks produced his highest lifetime outdoor vault at 5.83/19-3.5, besting a world-class field that included an Olympic champion and the current World champion.
"It took a great vaulting pole to accomplish this goal," said Sam Kendricks. "I am pleased to be a member of Team ESSX, as the company has made great strides to create high performance vaulting poles that offer superior durability for confidence, skinny design for improved gripping and ultra-responsive return for explosive pop."
"Congratulations to Sam on his spirited win in China. This historic win validates that UST-ESSX vaulting poles are gaining momentum among the world's best pole vaulters," commented Bob Drury, CEO of UST-ESSX and parent UST Mamiya. "The consistent feel, bend profile and faster return on models that integrate Recoil technology inspire confidence and deliver explosive power that in turn are promoting a tremendous amount of success at diamond-, elite- and collegiate-level meets."
Last weekend's win on the IAAF Diamond League is the Fort Worth-based company's first, but has collectively won numerous notable elite and collegiate meets worldwide over the last 15 years.
Designed and manufactured by UST-ESSX, under the watchful eye of noted pole maker Beto Sanchez, the Recoil Special Edition, Recoil Advance and Recoil poles are the only engineered vaulting poles with special stiffeners of glass and hybrid composite materials to store and transfer energy more efficiently. This unique and durable design concept lifts the vaulter at takeoff and eliminates the lower portion of the pole to bend into the landing system. The patterned clocking of materials allows the pole to store energy more efficiently than other brands of poles. According to flex load cell tests, the design is less resistance to initial bending than other poles, and lower initial load means vaulters can use a stiffer pole or finally master a pole rated at the ideal vaulting weight.
About UST-ESSX
UST-ESSX's parent company, UST Mamiya, has more than 40 years experience designing and manufacturing tubular products with technologically advanced composite materials. Today, we are truly a global organization with operations on four continents and sales in virtually every country in the world. For more information, visit the website at http://www.ust-essx.com.
# # #