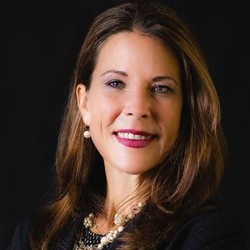 Chicago, Illinois (PRWEB) May 18, 2016
Karen DeRose, CFP®, CRPC© of DeRose Financial Planning Group and registered representative of Lincoln Financial Advisors, has received the Women's Choice Award, the only recognition program for well-qualified advisors who are committed to the women's market and serving their female clients.
Based on rigorous research, 17 objective criteria and additional points of reference that obtain feedback regarding the advisor's service and practices, achieving this award reaffirms the commitment DeRose has to extraordinary service in addressing the financial needs of women and their families.
"Women are looking for answers on how to identify financial firms and advisors they can trust. In a cluttered marketplace, our mission is to simplify her choice," said Delia Passi, CEO and founder of WomenCertified. "The Women's Choice Award allows women to make smart financial choices by identifying those advisors who provide quality services and commitment to their clientele."
DeRose specializes in comprehensive financial planning and is currently chair of The WISE Group at Lincoln Financial Network, an initiative aimed at supporting the unique needs of female financial advisors and clients. The WISE Group offers programs to help foster greater interaction and support among female advisors to empower and grow LFN's network of female financial advisors and to help all LFN advisors better serve female clients.
"We are thrilled to have received this award," said DeRose. "Advising female clients is an important part of my career in that those relationships begin with familiarity, are fostered by the ability to relate and are maintained with trust."
DeRose earned a degree in business with a concentration in accounting from Barat College in Lake Forest, Ill. DeRose is a CERTIFIED FINANCIAL PLANNER™ Professional (CFP®) and Chartered Retirement Planning Counsel (CRPC©).
DeRose Financial Planning Group is located at 8755 W. Higgins Suite 200 Chicago, Ill. 60631.
About Women's Choice Award
The Women's Choice Award Financial Advisor Program is based on 17 objective criteria associated with providing quality service to women clients such as credentials, experience and a favorable regulatory history, among other factors. Financial advisors do not pay a fee to be considered or placed on the final list of Women's Choice Award® Financial Advisors, though they may have paid a fee to participate in the Women's Choice Award Financial Advisor Marketing Program. WomenCertified Inc., home to the Women's Choice Award, awards businesses, brands and services based on high recommendation ratings by female consumers. The Women's Choice Award represents the collective voice of women so they can help each other identify businesses that deserve their loyalty and referrals. To learn more, visit http://www.womenschoiceaward.com
About Lincoln Financial Network
Lincoln Financial Network is the marketing name for the retail sales and financial planning affiliates of Lincoln Financial Group and includes Lincoln Financial Advisors Corp. and Lincoln Financial Securities Corp., both members of FINRA and SIPC. Consisting of almost 8,500 representatives, agents, and full-service financial planners throughout the United States, Lincoln Financial Network professionals can offer financial planning and advisory services, retirement services, life products, annuities, investments, and trust services to affluent individuals, business owners, and families. DeRose Financial Planning Group is not an affiliate of Lincoln Financial Advisors.
About The WISE Group
Lincoln Financial Network's WISE Group aims to inspire, support and educate female colleagues, clients and future advisors in the pursuit of knowledge and services within the financial planning industry. WISE assists women financial advisors in the growth and recognition of their practice. This includes support and assistance to advance the technical skills of women advisors, recruiting and developing new women advisors, and providing insight into the female investor to increase financial planning opportunities for all advisors, regardless of gender. The WISE Group also promotes sharing ideas as well as collaboration with financial planning, wealth and risk management to drive increased client retention, dedicated focus on attracting and keeping women as clients and advisors, practice expansion and networking, efficiencies in practice management, and technical expertise.