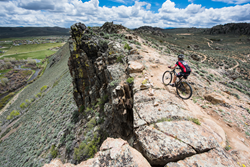 Gunnison, CO (PRWEB) June 16, 2016
Hartman Rocks doesn't have the mountain biking history or reputation of Crested Butte, but what it does have is a long season, a trail network with lots of fun intermediate terrain plus challenging technical features, and an ecosystem like no other place in the Gunnison Valley. Hartman Rocks lays in the shadow of Crested Butte's huge trail network that extends for hundreds of miles, but what it can lay claim to is the best high desert riding in Colorado. Here's why:
#1) The Trails
Hartman has twice as many trails as 18 Road in Fruita--Colorado's best known high desert riding spot. Come summer, the extreme heat in Fruita makes riding unbearable during the day. It gets warm at Hartman, and there's not a ton of shade, but it's rarely too hot for riding.
Hartman has 41 trails and 77 miles of trails for mountain biking--8 trails for beginners, 21 for intermediate riders, and 10 for advanced and expert mountain bikers. Mellow trails like Sea of Sage, intermediate favorites like Top of the World, and some of the most technical singletrack in the valley like Freefall and Rattlesnake--don't worry, there aren't any rattlesnakes. Riders can build their own ride, mixing and matching flowy singletrack, switchbacks, and punchy technical trail. Hartman's trails are meticulously maintained by volunteers led by trail advocacy group Gunnison Trails, so expect them to be in good shape all season long.
#2) The Scene
Decomposing granite spires, pockets of pink and yellow wildflowers, and sagebrush surround riders. Panoramic views of the Collegiate Peaks, Anthracite Range, West Elk and San Juan Mountains appear as riders gain elevation and push south into the backcountry. The terrain here is greener and jagged cliffs shape the east and west boundaries. The remote and flowy Aberdeen Loop takes riders near the Aberdeen Quarry where granite was harvested for the State Capitol.
#3) Stay and Play Harder
Gunnison is a cool college town meets laid-back ranching community and just 10 minutes from Hartman Rocks. From boutique inns to reliable hotel chains, accommodations are affordable and welcoming. Call Gunnison-Crested Butte Reservations at (877) 213.5357 and talk with a local about places to stay. Camping is a great way to experience Hartman Rocks and get first dibs at trails in the morning. Camping isn't permitted in the base area, but dispersed camping is widely available wherever you find a fire ring.
Cuisine ranges from authentic Nepalese food, Mexican to Asian Fusion, great pizza plus a thriving local brewery. The I Bar Ranch outdoor live music venue offers an eclectic mix of bluegrass, classic country and alternative music performances nearly every day of the week. Grab coffee, savory and sweet pastries while getting a tune-up at Double Shot Cyclery, or stop in to Rock and Roll sports to meet owner Dave Moe, one of the original Hartman Rocks trail building pioneers.
About Crested Butte and the Gunnison Valley
Crested Butte and the Gunnison Valley are called the "Home of Mountain Biking". Crested Butte in conjunction with Marin County are the birthplaces of the sport. The Valley has 750 miles of trails, more than anywhere in the world. To make navigating the vast network of trails easier, the CBGTrails map app was built. Creator and Crested Butte local Derrick Nehrenberg is a former behavioral neuroscientist who was inspired to start mapping after getting lost too many times in the backcountry. But that's another story! Visit http://www.CBGTrails.com and download the app for free. From there maps of trails can be downloaded on your phone and are accessible without cell service which can be scarce in the backcountry.
For more information on Gunnison-Crested Butte, visit http://www.gunnisoncrestedbutte.com.