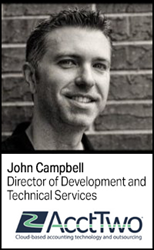 AcctTwo has always been a leader in performing complex implementations of Intacct for their customers...
Houston, TX (PRWEB) May 23, 2016
AcctTwo, a leading consulting firm and provider of cloud-based ERP solutions, announced that the firm has hired John Campbell to head up its newly formed Development and Technical Services team. John was one of the original developers at Intacct over 10 years ago, and has remained active in the Intacct ecosystem, providing outsourced technical development services to Intacct, AcctTwo and a number of other Intacct partners for the past several years. John is an expert on the Intacct Platform and Web Services integrations using the Intacct APIs.
AcctTwo has decided to make this strategic hire because of the firm's continued long-term commitment to the Intacct platform. Bringing John on board significantly expands AcctTwo's ability to take on larger and more complex technical development projects on behalf of their customers.
"I'm very excited to welcome John to AcctTwo in this role, and for the possibilities this will open up for us all to continue to expand the Intacct platform and ecosystem," said Marcus Wagner, Founder and CEO at AcctTwo. "AcctTwo stands ready to serve our customers and fulfill any development or technical services needs they might have."
Aaron Harris, CTO at Intacct, applauded the move saying, "AcctTwo has always been a leader in performing complex implementations of Intacct for their customers, including customization and development using the Intacct platform and APIs. The hiring of John Campbell takes AcctTwo to the next level. I'm excited to see what AcctTwo does in this area. Intacct is committed to continuing to support and expand our development platform for our customers and partners."
Those interested in learning more about AcctTwo's Intacct development capabilities, please visit the contact page.
About AcctTwo:
AcctTwo is a leading consulting firm and reseller of cloud-based accounting and ERP software. Our sophisticated systems solve the issues growing middle market companies face today. AcctTwo also provides Business-Process-as-a-Service solutions, allowing clients to focus on the core competencies of their business. We provide the people, processes, technology, and office facilities to perform these functions, while allowing clients to collaborate interactively through an on-line portal.
AcctTwo is headquartered in Houston, Texas. For more information, please visit http://www.accttwo.com or call 713-744-8400.
Contacts:
Peter Wagner
Director of Marketing
AcctTwo
Cell: 512.415.6846
Email: pwagner(at)accttwo.com
Chris Wailes
VP, National Media Relations
Pierpont Communications
Direct: 713.627.2223
Email: cwailes(at)piercom.com