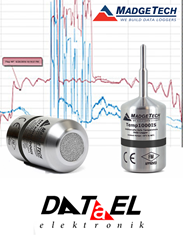 (PRWEB) May 19, 2016
Data Elektronik has an extensive selection of MadgeTech data logging solutions, including Ethylene Oxide (EtO) sterilization data loggers, designed specifically for safe operation in hazardous areas. EtO is a gas and the sterilization process introduces potentially dangerous risks, requiring very specific environmental conditions; monitoring both temperature and humidity is essential throughout EtO sterilization cycles. MadgeTech offers specially designed temperature and humidity data loggers that are intrinsically safe (IS), limiting the amount of energy to prevent potential explosions.
Two products used to record and validate measurements throughout the entire EtO sterilization process are MadgeTech's RHTemp1000IS and the Temp1000IS data loggers. The newly designed RHTemp100IS is a rugged, battery powered humidity and temperature data logger. The new sintered cap of the RHTemp1000IS increases accuracy and provides more resistance in harsh environments. It is also FM approved and water resistant, making it the right tool for monitoring temperature and humidity in such an important and regulated application.
Data Elektronik also offers MadgeTech's Temp1000IS temperature data logger. The stainless steel data logger accurately monitors and records temperature, ensuring that all data is time and date stamped. Both the Temp1000IS and the RHTemp100IS work in conjunction with the MadgeTech Data Logger Software to provide advanced calculations and satisfy reporting needs for compliance to government regulatory agencies.
Together, MadgeTech and Data Elektronik are devoted to providing clients with high-quality and cost-effective solutions, using the latest technology and continually simplifying the process for the user.
To see the entire line of MadgeTech products available in the Czech Republic and Slovakia regions, contact Data Elektronik directly.