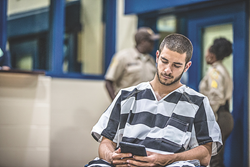 Telmate's goal of getting a wireless tablet into the hands of every inmate is fast becoming a reality.
San Francisco, CA (PRWEB) May 19, 2016
Telmate, a leading provider of inmate communications solutions, today announced it recently surpassed an impressive 5.5 million minutes of usage per month in over 50 facilities that have launched the secure, handheld wireless Telmate Tablets.
"Telmate's goal of getting a wireless tablet into the hands of every inmate is fast becoming a reality," said Telmate's Director of Marketing, Craig Diamond. "Now, tens of thousands of inmates have a modern access point that expands their connection to the outside world through messaging and secure content, including education -- all on a single device."
In addition to the rapid rise that Telmate is seeing in inmate tablet usage, the company is also witnessing a profound change when it comes to the benefits facilities experience with tablets and the positive effects on inmate behavior. Facilities are finding that because tablets are a privilege, they act as an effective behavior modification tool. In fact, inmates will behave better to earn the right to use them.
Telmate Tablets help facilities gain more security, control and operational efficiencies. Our digital solution drastically reduces physical mail and contraband, gives inmates access to law libraries, and automates inmate requests and grievances for the facility.
In addition, tablets help identify system users and to solve crimes because all Telmate software solutions are integrated with a free automated identity verification system called Telmate Verified, and a free advanced suite of powerful crime-solving tools called Telmate Investigator.
For inmates, Telmate Tablets offer an additional way to stay in touch and connect with the outside world through a variety of means such as secure messaging, education, photos, music, entertainment and more. Tablets support inmate well-being by helping turn idle, stressful time into productive time, and by giving inmates access to needed tools such as paperless requests, grievances, medical requests, commissary ordering, crime tips and PREA (Prison Rape Elimination Act) reporting.
Studies show that inmates with frequent connections to the outside world are more likely to refrain from conduct that would cause them to jeopardize early release. Also, according to the Federal Bureau of Prisons, inmates who maintain strong relationships with friends and family, greatly reduce their risk of recidivism.
Telmate is giving live demos of their Telmate Tablet Single Device Solution during the 2016 American Jail Association's 35th Annual Conference and Jail Expo in Austin, Texas, from May 22 through May 25th.
For more information about the Telmate Tablet, please visit http://www.telmate.com/tablet.
###
Telmate is a leading provider of secure corrections and community corrections solutions including phone, tablet, visitation, messaging, education and entertainment content, corrections applications, investigator tools and GPS monitoring. Telmate's cutting-edge platforms are deployed in over 300 correctional facilities in the U.S. and Canada. Telmate is headquartered in San Francisco, California, with employee presence nationwide. To find out more about Telmate, visit http://www.telmate.com.