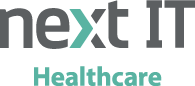 It's an honor to be recognized as a leader in this space for developing innovative solutions that are meaningfully improving the lives of thousands of patients.
Spokane, WA (PRWEB) May 19, 2016
Next IT Healthcare, the leader in patient engagement, today announced that their Intelligent Virtual Health Assistant (VHA), built in conjunction with a leading pharmaceutical company, won the 'Most Valuable HCP or Healthcare Initiative' at the 2016 eyeforpharma Philadelphia Awards.
Next IT Healthcare deployed the first virtual health assistant for the pharmaceutical industry that guides patients during their time between doctor visits by encouraging them, through coaching and tracking, to adhere to their health management plan and medication schedule. The VHA is built on Next IT Healthcare's natural language understanding (NLU) artificial intelligence platform, Alme. Through a state-of-the-art conversational user interface (CUI), the VHA offers infinitely scalable reach and frequency, and is trained to educate, integrate, share data, and ultimately improve compliance and adherence while building a unique human-like relationship with each individual patient.
Feedback from eyeforpharma was universally positive, praising Next IT Healthcare's VHA as "better than Siri," and "an important step forward for the industry." According to Thomas Disley, Global Director of Research at eyeforpharma, "by reducing the cost of delivering quality support, [the VHA] lowers the pressure of cost constraints in the design of support services that actually meet the patient's needs."
In the first year of deployment, the Virtual Health Assistant facilitated significant increases in compliance and adherence, achieving a 90%+ success rate in helping patients with tasks like tracking medication intake, mood, and overall wellness. The VHA also saw universally high user review ratings among patients overall.
"We've always held a deep respect for the eyeforpharma Awards and the patient-centered healthcare innovations they champion," said Mitch Lawrence, President of Next IT Healthcare. "It's an honor to be recognized as a leader in this space for developing innovative solutions that are meaningfully improving the lives of thousands of patients."
Winners of the eyeforpharma Awards reflect the organization's mission to evangelize the need for pharma to change its focus from selling products, to seeing the powerful opportunity that pharma has to impact and improve the lives of patients.
To learn more about Next IT Healthcare and their AI disruption in the pharma industry, please read the complete award announcement here.
About Next IT Healthcare
Next IT Healthcare is the leader in patient engagement. We help healthcare organizations drive lasting behavior change and improved outcomes. Our mission is to pave the way to a radically healthier population.
Using Alme, our natural language platform, we develop disease-specific health coaches that achieve unprecedented engagement and adherence rates. Each of our solutions is validated via IRB-approved studies, clinical trials, or peer-reviewed research on a particular disease state. Our proven approach is trusted by leaders in all corners of health, including pharmaceuticals, providers and payers.
Next IT Healthcare is proudly based in Spokane, Washington. Learn more at http://www.NextITHealthcare.com.