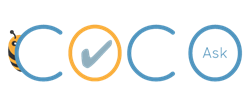 Social advice, within a timeframe, for whatever you're asking for
(PRWEB) May 21, 2016
Ask COCO is an app that leads to better decision making by harnessing and summarizing the collective knowledge of individuals. The main difference between using a search engine and an app is that one can not take multiple photos and videos and ask the search engine what it thinks, at least not yet but with Ask COCO one can get information in real time, from real people, in the time frame that one wants to get it, leading to better decision making in all walks of life.
Don't know what to say to management in a bad situation? Not sure what to wear? Is that girl/guy the right person? Ask by uploading photos or search photo options on the web and let the masses decide.
The creators of the app Ask COCO (Collective Consciousness) define it as; wisdom from and for the masses, some even call it Instagram on steroids and there is a very good reason why; although a search engine or an online encyclopedia might give you information, it will never be on time and specifically about your situation. At least not yet.
Follower network can be grown by sharing the app on Facebook and Twitter to get summarized answers from anyone one is connected to, or just by using e-mail contacts, so one is not confined to social media accounts. Just Ask COCO