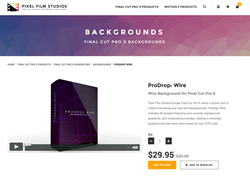 ProDrop Wire comes with 30 presets that will give FCPX users a different look every time they use this stylistic background tool
Aliso Viejo, California (PRWEB) May 22, 2016
"ProDrop Wire comes with 30 presets that will give FCPX users a different look every time they use this stylistic background tool," said Christina Austin - CEO of Pixel Film Studios.
Pixel Film Studios brings Final Cut Pro X users a stylish tool to create interesting and cool wire backgrounds. ProDrop Wire includes 30 presets featuring wire controls, background gradients, and compositing overlays. Adding in universal backgrounds has never been easier for any FCPX user.
ProDrop Wire includes 30 generator presets for wire environments with compositing overlays. Each generator includes wire controls, angle of view, color gradients, and dust particles.
ProDrop Wire is extremely easy-to-use and navigate. Find sliders, checkboxes, and generate buttons that allow FCPX users to customize this background to the fullest amount. Control the scale of wires, randomize generator elements, change the colors, and much more with ProDrop presets. Pixel Film Studios makes editing easy in Final Cut Pro X.
Each ProDrop preset runs for a duration of 30 seconds but can be shrunk or expanded to occupy a larger space within the timeline. ProDrop is completely self-animating which allows users to achieve beautiful looks without the hassle of keyframes. Simply drag, drop, and tweak, ProDrop will do the rest.
Create a sleek video with ProDrop Wire's FCPX exclusive designs. Look to the inspector window to find, simple sliders, hue dials, and easy checkboxes to manipulate ProDrop presets. With so much customization in these 30 presets, Final Cut Pro X users can achieve an array of beautiful looks.
Established in 2006, Aliso Viejo, California-based Pixel Film Studios is an innovative developer of visual effects tools for the post-production and broadcast community. Their products are integrated with popular non-linear editing and compositing products from Apple FCPX. Apple, the Apple logo, Mac OS X, and Macintosh are registered trademarks of Apple Inc. in the U.S. and/or other countries. All other trademarks and trade names are the property of their respective owners.