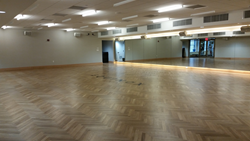 "I want to thank Equinox for trusting us to work on one of their premier locations," says Adelhardt Construction CEO, David Adelhardt, "We are honored to play a supporting role in helping New York stay fit!"
New York, NY (PRWEB) May 20, 2016
Adelhardt completed major construction to the soundproof enclosures in the new fitness center and cycling studio, ensuring sound from the physical activity and music will not transfer to neighboring tenant spaces. Creating a soundproof enclosure required the installation of isolated ceiling and floor. The ceiling was hung utilizing vibration isolators while a new slab was shored up with vibration isolators.
Soundproof shaft walls were installed on top of the jacked slab and tied in to the hung ceiling. This construction achieved the goal to retain sound within the spaces. This was verified by tests conducted by client's technical team.
The Group Fitness Center consisted of installing a herringbone patterned oak floor, glass store fronts, floor to ceiling operable windows, new finishes, lighting, AV and modifications to the existing mechanical system. The Cycling Studio included high impact flooring, state of the art sound system and video, storefront, new finishes, lighting and modifications to existing mechanical system.
The locker room rehab included upgrades to the existing Men's and Women's wet and dry areas. Adelhardt removed all of the tile and waterproofing to existing slab and wall framing. New waterproofing was applied and tested prior to installation. This sequence was performed for all lavatories, shower stalls, steam rooms, and saunas. All of the work was completed between the hours of 11:00pm and 5:00am. This time schedule allowed gym members to utilize all amenities during the renovation.
"I want to thank Equinox for trusting us to work on one of their premier locations," says Adelhardt Construction CEO, David Adelhardt, "We are honored to play a supporting role in helping New York stay fit!"
About Adelhardt Construction
Adelhardt is a third generation, family owned company founded in 1929 that has been under current management since 1998. They are educated and experienced problem solvers, made up of architects, engineers, and business people who are sensitive to the business of the clients they serve and their goals.
Adelhardt Construction Corporation is guided by its philosophy of equality: "We treat everyone equally – Clients, Subcontractors and Team Members. We respect everyone and expect the same in return." Their philosophy has created long term relationships with clients, employees, professional firms, and subcontractors – some for over 50 years.