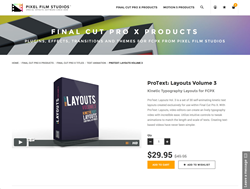 ProText Layouts Vol. 3 is a plugin that will keep your audience engaged at all times
Aliso Viejo, California (PRWEB) May 24, 2016
"ProText Layouts Vol. 3 is a plugin that will keep your audience engaged at all times," said Christina Austin - CEO of Pixel Film Studios.
ProText Layouts Vol. 3 is a set of 30 self-animating kinetic text layouts created exclusively for use within Final Cut Pro X. With ProText Layouts, video editors can create an lively typography video with incredible ease. Utilize intuitive controls to tweak animations to match the length and scale of texts. Creating text-based videos have never been simpler.
ProText Layouts Vol. 3 includes 30 Box inspired kinetic text layouts with creative designs and animations. Create entertaining videos with adjustable Intros and Outros. Stack ProText Layouts Vol. 3 presets to transitions from one kinetic text animation to the next. ProText Layouts is the easiest way to create dynamic typography videos without setting a single keyframe.
ProText Layouts Vol. 3 can be placed above pictures, videos, and generators within Final Cut Pro X. To use ProText Layouts Vol. 3, start by placing any supported media into the FCPX timeline. Then simply choose a ProText preset and place it directly above the media. Adjust the length of the ProText preset to adjust the time that ProText animation stays on screen.
ProText Layouts Vol. 3 can be easily manipulated to text of any size, scale, and tracking. Look to the inspector window on the right to find "Intro" and "Outro" animation controls for each preset. Alter the position, animation amount, and scale of text to get any message across. The possibilities are truly limitless with ProText Layouts Vol. 3.
ProText Layouts Vol. 3's presets are packed with creative Intro and Outro animations. Choose from presets with flipping, scaling, masking, bouncing, sweeping, and rotating animations. Some presets include 3d box rotations. Non Motion Blurred and Motion Blurred presets are both included. ProText Layouts Vol. 3's dynamic style keeps audiences engaged and interested.
Established in 2006, Aliso Viejo, California-based Pixel Film Studios is an innovative developer of visual effects tools for the post-production and broadcast community. Their products are integrated with popular non-linear editing and compositing products from Apple FCPX. Apple, the Apple logo, Mac OS X, and Macintosh are registered trademarks of Apple Inc. in the U.S. and/or other countries. All other trademarks and trade names are the property of their respective owners.