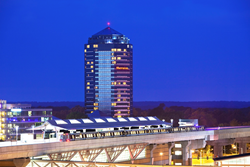 "We've been serving our community for 30 years. It's our passion to give back any way we can," stated General Manager Linda Westgate.
TYSONS, VA (PRWEB) May 23, 2016
This summer is unlike any other because Sheraton Tysons Hotel celebrates its 30th Anniversary this month. This vibrant hotel is located in Tysons West, the heart of the entertainment and music district. The hotel is managed by Crescent Hotels & Resorts, an operator of over 100 hotels throughout North America, including 15 in the Washington, D.C. area.
Since opening thirty years ago, the Sheraton Tysons Hotel has made it a priority to give back to the community. As the Tysons area has developed, so has Sheraton Tysons' community involvement, such as donating to Toys for Tots, ALS Ice Bucket Challenge, celebrating Thanksgiving Day at the local firehouse, as well as many others. "We've been serving our community for 30 years. It's our passion to give back any way we can," stated General Manager Linda Westgate.
The Tysons area has developed tremendously the last five years – from establishing itself as a Northern Virginia City, to opening a Metrorail station in walking distance of Sheraton Tysons. As the largest business district in Fairfax County, Tysons offers 26.4 million square feet in office space, giving a home to some of America's largest corporate headquarters as well as new growing businesses and government agencies. Just a short Metrorail ride or shuttle ride from Sheraton Tysons sits the tenth largest mall in the United States., Tysons Corner Center, which offers shoppers a selection of more than 300 shops. But Tysons isn't the only one who has experienced change; Sheraton Tysons Hotel was renovated in 2012 and has since experienced more business travelers and leisure travelers than ever before. Its close proximity to local restaurants and Walmart offers guests a convenient dining and shopping experience.
In celebration of this monumental 30th birthday, Brix And Ale invites guests to join in the celebration with a retro menu pricing. Dating all the way back to 1986, Brix And Ale offers guests an enticing lunch for just $19.86. Top off your evening with a three-course dinner for two for $20.16, complete with a bottle of wine.
In addition to the 30th Anniversary Package, where guests can add a third night to their stay for just $30, starting this Memorial Day, Sheraton Tysons is offering families a Stay & Play Family Package for guest to enjoy while partnering with the Fairfax County Park Authority. The family focused package allows for a great weekend getaway and for guests of all ages to enjoy some of Fairfax County's favorite attractions. By partnering with the Fairfax County Park Authority, Sheraton Tysons Hotel will provide guests with a little bit of everything, from water parks and history, to enjoying a sunny day on the river and hiking nature trails. The hotel's convenient location to downtown Washington D.C. and Virginia's Blue Ridge Mountains and Countryside give guests plenty of activities to choose from.
Guests staying at the Sheraton Tysons Hotel between May 28 and September 2, 2016 will experience extra amenities and services with the purchase of a Stay & Play Family Package or 30th Anniversary Package.
To book a weekend getaway this summer, call reservations at 888 627 8230 or visit the hotel on-line at http://www.sheratontysonscorner.com/seasonal-offers:
Stay & Play Family Package:

Enjoy a room with a view: Blue Ridge Mountains, Virginia Woodlands or Tysons Skyline
Enjoy the cinema with four tickets to the local Tysons AMC Theater for a night out
Receive 2 for 1 admission to Jefferson Falls Mini Fold at Jefferson District Park, fun for the whole family
Receive a "Summer Exploration" packet with area guides, maps, tips and helpful local information
Experience history at the Colvin Run Mill with discounted admission to the famous local landmark
Welcome Packet provided with directions to Riverbend Park and Nature Center on the Potomac River
o Two Night Minimum (package inclusions based on a two night stay)
o Starting at $119 + tax of 12%, per night (Thursday - Sunday)
30th Anniversary Package: Stay 2 Nights, Get the 3rd Night for $30

Enjoy a room with a view: Blue Ridge Mountains, Virginia Woodlands or Tysons Skyline
Enjoy our warm spacious guestroom located on the 10th floor or higher, featuring the Sheraton Sweet Sleeper
Refresh with complimentary access to our state of the art Sheraton Fitness and Indoor Pool
Enjoy the conveniences of complimentary guest room High Speed Internet Access and overnight parking
o Starting at $99.00 + tax of 12% (subject to availability)
About the Sheraton Tysons Hotel
Each Guest will experience a fresh contemporary look, a warm relaxed environment and a friendly welcome, all within an urban retreat setting. Conveniently located to Washington, D.C. and the heart of Northern Virginia, Guests will find an abundance of activity to include dining, shopping, local business, historical sites, national parks, wineries and Virginia's majestic countryside. Nestled in the newly developed and Metrorail accessible neighborhood called Tysons West, the Sheraton Tysons Hotel acts as a home for Business and Social travelers visiting the region. The Sheraton Tysons Hotel provides a place where colleagues, co-workers, friends and family may "connect" while creating meaningful memories and experiences. For more information, visit the hotel website, call (703) 448 1234, like on Facebook or follow on Twitter.
The Sheraton Tysons Hotel is under the management of Crescent Hotels & Resorts and owned by The JBG Companies.
About Crescent Hotels & Resorts
Crescent Hotels & Resorts is a nationally recognized, top-5 operator of hotels and resorts. Crescent currently operates over 100 hotels and resorts in 27 states in the US and 5 provinces in Canada. Crescent is one of the few elite management companies approved to operate upper-upscale and luxury hotels under the brand families of Marriott, Hilton, Starwood, Hyatt and IHG. Crescent also operates a collection of legendary independent hotels and resorts. Crescent's clients are made up of hotel REITs, private equity firms and major developers. For more information, please visit http://www.chrco.com.
About The JBG Companies
Headquartered in Chevy Chase, Maryland, The JBG Companies is a private real estate investment firm that develops, owns and manages office, residential, hotel and retail properties. The company has more than $10 billion in assets under management and development in the Washington Metropolitan Area. Since 1960, JBG has been active in the communities where it invests, striving to make a positive impact. More information can be found by visiting the company's website: http://www.JBG.com, or by calling 240.333.3600.
About Sheraton Hotels & Resorts
Sheraton helps guests make connections at more than 400 hotels in 70 countries around the world and recently completed a $6 billion global revitalization and is now in the midst of a $6 billion global expansion over the next three years. Sheraton is owned by and is the largest and most global brand of Starwood Hotels & Resorts Worldwide, Inc. is one of the leading hotel and leisure companies in the world with 1,090 properties in 100 countries and territories with 154,000 employees at its owned and managed properties. Starwood Hotels is a fully integrated owner, operator and franchisor of hotels, resorts and residences with the following internationally renowned brands: St. Regis®, The Luxury Collection®, W®, Westin®, Le Méridien®, Sheraton®, Four Points® by Sheraton, Aloft®, and ElementSM. The company boasts one of the industry's leading loyalty programs, Starwood Preferred Guest (SPG), allowing members to earn and redeem points for room stays, room upgrades and flights, with no blackout dates. Starwood Hotels also owns Starwood Vacation Ownership, Inc., one of the premier developers and operators of high quality vacation interval ownership resorts. For more information, please visit http://www.starwoodhotels.com
rw Stayinwashingtondc.com #stayinwashdc