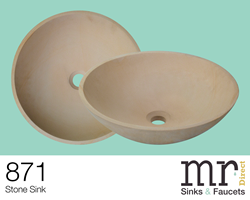 Cut from nature, the ambiance created by a stone vessel bowl in the bath is simply refreshing.
Toledo, Ohio (PRWEB) May 22, 2016
With great pride, MR Direct is announcing the latest addition to its stone vessel sink collection. The new 871 model is a beautiful sandstone basin which will quietly stand out in any bath setting.
Solid, functional, and rustically beautiful, stone basins continue to grow in popularity; and it's easy to understand why. Cut from nature, the ambiance created by a stone vessel bowl in the bath is simply refreshing. Sandstone is perhaps the most unique stone used for this purpose. It has an inherent gritty appearance due to the compression of its sand grains over millennia. The complexion of the stone can vary greatly from light beige to rich orange colorings.
The existing 852 model in the MR Direct line has a typical layered sandstone look. Ridge lines race in various directions, at irregular thicknesses, while its colors shift from dark browns to reds to ambers. It's an exciting vessel design. The new 871 basin has the same shape and dimensions as the 852, however, it has a very different coloring throughout. Although this new vessel's stone is also made of sand, it has no deep veins running through it. Instead, it features a consistent, smooth, sandy appearance. Ridge lines are not apparent, or very subtle if visible at all. The sand color is typically light overall and gives a soft, serene aura to the room, once installed.
For a basin which takes shape as a very thick circular bowl, with a sense of roundness throughout; the recently introduced 869 model should be considered. It features the obvious striations as seen in the 852. All of the MR Direct sandstone sinks have a smooth, matte, yet hard-wearing finish inside and out. And all are one-of-a-kind basins.
The MR Direct sandstone collection stands upgraded. The 871 offers a calmer version of a sandstone vessel-style sink. Beyond its more uniform appearance, it also offers a solid, thick, and distinguished presence, sure to draw a pleasing reaction from its users.
For further details on the new 871 sandstone sink, and the other stone basins offered by MR Direct, simply visit http://www.MRDirectint.com.