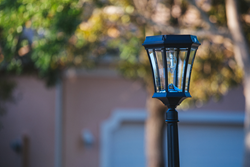 Atlanta (PRWEB) May 23, 2016
Gama Sonic USA, Inc., a leading manufacturer of revolutionary outdoor solar lighting systems, today announced that its new solar LED bulb technology will now be offered in the company's Victorian collection. The Victorian series is one of Gama Sonic's most popular lines. With its unique, old world design, Gama Sonic's Victorian collection features a wide range of styles, including a single solar lamp; double solar lamp; triple solar lamp; and a solar lamp with 3 mounting options for walls, flat surfaces and posts, all of which can be used in residential and commercial applications.
The new solar LED bulb mimics the common 360 degrees light spread of traditional incandescent bulbs. Designed with multiple LEDs positioned in a strategic grouping at the bulb's center, paired with Gama Sonic's patented cone reflector, the level of brightness spreads generously.
"This technology is not the low-light or no-light solar technology of the past," says Itay Parness, vice president of sales at Gama Sonic USA, Inc. "What we're offering is a blub that illuminates just like a traditional bulb. Except ours are ecofriendly, beautifully designed and made of weather-proof, rust-resistant cast aluminum that requires no maintenance. Just set our Victorian Solar Lamp where you want it, and let the sun do the rest."
For more information about Gama Sonic and its Victorian collection featuring the company's new solar LED bulb, visit http://www.gamasonic.com.
About Gama Sonic:
Gama Sonic is a leading manufacturer of solar lighting products for homes and businesses with over thousands of products installed worldwide. Founded in 1985 as a manufacturing and marketing company of emergency lights and other electronic products, Gama Sonic products incorporate plastics, stainless steel, cast aluminum, electronics and OEM services in various markets. Gama Sonic develops, manufactures and markets consumer and commercial/industrial-grade solar powered, energy efficient, custom lighting solutions for a wide range of lighting applications. Gama Sonic distributes products in 21 countries, including Latin America and Europe. Gama Sonic USA Inc. manages the marketing and distribution of products in the United States and Canada.
###