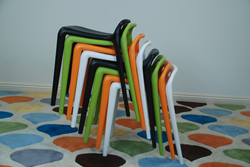 The E-Z Modern Stacking Stools are a dream because they can stack up to eight stools high and are perfect for small living spaces, lounges and lobbies
Baldwin Park, CA (PRWEB) May 24, 2016
The EZmod Furniture office has just received a carton filled with brand new items for customers to enjoy. These newest items include the E-Z Modern Stacking Stool Chair 2-Pack and the Dream Rocking Lounge Chair. EZmod is also looking to sign up new interior designers, wedding planners and architects for the EZmod Furniture Interior Designer Discount Program.
While always searching for the hottest trends in furniture, EZ has introduced the E-Z Modern Stacking Stool Chair 2-pack. "The E-Z Modern Stacking Stools are a dream because they can stack up to eight stools high and are perfect for small living spaces, lounges and lobbies," explained Gloria Ortega, Operations Manager at EZmod Headquarters. The E-Z Modern Stools are available in black, white, and orange and green and include features such as a low back for excelled arm movement and are very lightweight.
Speaking of a dream, another new item now available is the Dream Rocking Lounge Chair. EZmod chose an item that is different from the rest to try out in the inventory. This unique rocking lounge chair stands out with the cleverly woven dark brown rope winding up from the back seat, creating lovely diamond shapes as it travels downward to support the thick dark gray cushion. This chair also provides an extra thick cushion for additional comfort to the head and neck. The additional head cushion is also liftable and can be flipped over to lounge without it.
EZmod Furniture has also announced that interested architects, interior designers and wedding planners may now sign up for the EZmod Furniture Interior Design Program. The program is free to enroll and Designer Program members receive 10 percent off on all purchases, along with free shipping and no minimum order amount required. All EZ needs is the following:

Your full name
Company name and address
Contact phone number and email address
Copy of Federal Tax ID or Resale Certificate (Note: A resale certificate is a must if you want sales tax exempted in CA)
EZmod Furniture is an online modern furniture retailer located in Baldwin Park, California. If you need further assistance with any of the featured items mentioned, please call Angelique Valdez, Sales & Marketing Specialist at 866-630-6161 ext. 113.