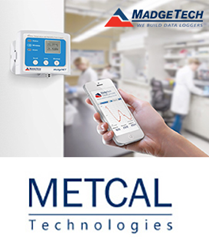 (PRWEB) May 23, 2016
Celebrating their 20th anniversary this year, Metcal Technologies not only offers quality products, but also provides inspection and repair services for MadgeTech data loggers. These qualifications translate to excellent customer service for the life of the product and contribute to making them one of MadgeTech's most praised and valued distributors.
Metcal is now offering the RFC1000 Cloud Relay data logging hub. MadgeTech is shaping the data logging industry with the release of the new RFC1000 Cloud Relay which transmits real-time data from MadgeTech wirelesss data loggers directly to the MadgeTech Cloud without the need for a computer. This wireless system is simple to set-up and each relay can transmit real-time readings from up to 64 data loggers to the MadgeTech Cloud Services for instant remote access on any internet enabled device. Multiple RFC1000 Cloud Relays can be used to scale the system as needed, accommodating facilities of all sizes.
Metcal Technologies offers the RFRHTemp2000A, a wireless temperature and humidity data logger with LED display, ideal for monitoring laboratories, hospitals and endless other storage applications. The 2000A series includes audible alarms, or user configurable email and text notifications. Users can select a measurement threshold and be notified immediately if the level is breached, providing the opportunity to head off problems and prevent the damage of goods.
For environments such as hospitals that require the monitoring of vaccines or other refrigerated pharamaceuticals, Metcal offers MadgeTech's VTMS, a wireless data logging system with probe and glycol bottle designed specifically for vaccine temperature monitoring. The VTMS system and all MadgeTech wireless data loggers are cloud compatible, allowing live data to be viewed and managed from any smartphone or device, from anywhere in the world.
Metcal specializes in serving the medical industry for a variety of monitoring applications including EtO and steam sterilization validation. Metcal offers a wide selection of continuous monitoring solutions as well as rugged stand alone data logging for harsh environments. The MadgeTech Data Logger Software completes the solution by delivering a robust combination of data analysis tools, built in reporting options and advanced calculations.
MadgeTech and Metcal Technologies have been working together for many years to provide affordable and reliable solutions to a wide array of industries. MadgeTech is known across the globe as the leading manufacturer of data loggers, and the only brand trusted by Metcal Technologies.
To see the entire line of MadgeTech products available contact Metcal Technologies directly.