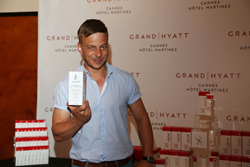 Cannes, France- GBK (PRWEB) May 20, 2016
GBK (gbkproductions.com) and LifeCell (LifeCellCream.com) hosted a Luxury Lounge at the 2016 Cannes Film Festival on May 15 & 16 at the exclusive Grand Hyatt Cannes Hôtel Martinez in Cannes, France. GBK gifted a variety of celebrities who were attending the festival, American Express Centurion (Black) Card Members, amongst other VIP's.
A true highlight of the lounge was Presenting Sponsor, LifeCell South Beach Skincare, a leader in high quality, paraben, fragrance and cruelty free anti-aging skincare. They provided guests their special All-In-One Treatment, an effective skincare product formulated to prevent and treat aging skin. In addition, SOUNDWALL - offering a limited edition Aluminum SOUNDWALL that will be an ongoing homage to the artist Prince, is a work of art that engages the senses, combining high-fidelity audio with contemporary design; and PHILIP B® BOTANICALS exclusive Cannes Hairstylist, Eros Giuliani with a seriously chic, luxurious Philip B® gift set including lavish blends of fragrant, nourishing botanicals, and beauty indulgences that not only offer peace of mind, but also leave hair dramatically smoother and softer; and Bay Gardens Beach Resort & Spa, who offered a 3 night stay at their 4 star luxury Beach Front Resort surrounded by picturesque hills and sparkling Caribbean waters. A select few celebrities were given the VIP treatment, walking away with an additional treat from Belmond La Samanna, St. Martin - Set beside St. Martin's most exclusive beach, lapped by the Caribbean Sea, Belmond La Samanna is the ultimate luxury resort.
Celebrities were excited to see Beauty and Fashion brands like JLEW Bags – gifting a Leather rock star clutch with a tassel and charms; Zumer Sport, with backpacks and duffel bags made from actual sport ball materials such as baseball, softball, tennis, soccer, basketball, and Football material; Ooh La La Beauty Bar who brought celebrities and press their exclusive branded cosmetic line, and offering expert hair blowouts and makeup services; Grande Naturals | GrandeLASH-MD presenting a 6 week supply of GrandeLASH-MD and GrandeMASCARA; LuMee - the original and patented front-facing LED lit smartphone protective case that debuted in 2014, which creates the perfect picture lighting; and Flint, the world's first retractable, refillable lint roller that stays clean and protected so you can transport it, wherever you go. Flint is reusable, recyclable and refillable.
The GBK Events always have a charitable component, and this one was no different! The Brady Campaign to Prevent Gun Violence will be contributing their Commemorative, hand-crafted bracelets engraved with the initials and age of a victim of gun violence. Each bracelet arrives with the victim's personal story, shared by a loved one and helps to shine a spotlight on the tragic, human cost of gun violence; and Bullets4Peace- Reloading life! Bringing you handcrafted jewelry line promoting peace and compassion, and gifting their unique bullet necklaces made from repurposed bullet casings.
Lastly, Heitz Wine Cellars who brought Napa Valley's first vineyard-designated Cabernet Sauvignon to guests to sip as they make their way through the suite.
###
GBK, formerly GBK Productions, is a luxury lifestyle gifting and special events company, specializing in entertainment marketing integration. Formed in 2000 by Gavin Keilly, the company's Founder and CEO, GBK consists of five divisions: GBK Celebrity Gifting, GBK Special Events, GBK Weddings, GBK Charitable Consulting and GBK Marketing/Public Relations. Widely known in the entertainment industry for bringing that little extra something into the Gifting Lounge environment, GBK offers its clients a full range of marketing services. For more information on GBK, please go to gbkproductions.com.