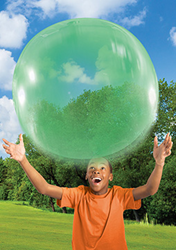 It looks like a bubble but you play with it like a ball!
New York, NY (PRWEB) May 25, 2016
It looks like a bubble, but plays like a ball! New York City-based NSI International Inc. – makers of the Wubble® Bubble Ball introduces the new SuperWubble® Bubble Ball, which is stronger than ever.
Like the original Wubble – which was named the #1 Selling Sports Activity Toy for 2015 by the NPD Group – new SuperWubble is soft and lightweight and can be inflated to gigantic proportions.
"The new SuperWubble Bubble Ball is just as squishy and fun as our original Wubble Bubble Ball, but uses our top secret Xpandium™ material, which makes it up to four times stronger and more tear-resistant," said Frank Landi, president of NSI and inventor of the Wubble Bubble Ball. "Xpandium is truly revolutionary – the result of tens of thousands of hours of research with our engineers around the globe."
Based on the wish of his youngest son, Rowan, Landi and his team at NSI spent three years developing a "bubble you can actually play with" – just like Rowan dreamed. NSI launched the original Wubble Bubble Ball in 2014, and it quickly became a global phenomenon. The innovative, lightweight ball has won numerous awards, and millions have been sold worldwide.
"We listened to kids and parents and created a new version of the Wubble Bubble Ball that's even more amazing than before," said Brian Waldman, Senior Vice President of NSI. "In this age of handheld devices, it's exciting to have a toy that actually entices kids to play outside."
Wubble Bubble Balls are now available in a variety of fun formats, including TinyWubble Balls and WubbleX – the helium-fillable "anti-gravity" Wubble Ball.
The new SuperWubble Bubble Ball comes in four colors: red, blue, pink and green. The starter set comes with a portable pump and deflator (for easy storage) and retails for under $20. The balls are also sold separately for under $15. All SuperWubble Bubble Balls are backed by a limited replacement warranty.
SuperWubble Bubble Balls are only available on WubbleBall.com right now, but starting in August, they will be available nationwide at retailers like Target, WalMart, Toys R Us, Walgreen's, Meijer and more.
ABOUT NSI INTERNATIONAL INC.:
NSI International Inc. is a global marketer and manufacturer of innovative toys and children's products under such established brands as Nickelodeon, Smithsonian and Oglo sports. NSI is headquartered in New York City, and its products can be found in thousands of retail locations in more than 30 countries around the globe. © 2016 NSI International, Inc. All Rights Reserved.