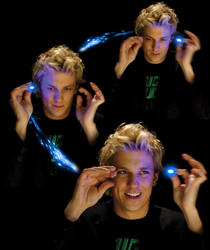 Amaze and astonish your friends, as you grab colored light from thin air, pass it from hand-to-hand, through solid objects, in one ear and out the other.
New York, NY (PRWEB) May 25, 2016
NSI International Inc. introduces Bright Bugz® – tiny colored LED light-based marvels that secretly strap onto fingertips and prove the hand is quicker than the eye.
"Mystify everyone around you as you grab colored light from thin air, pass it from hand-to-hand, through solid objects, in one ear and out the other," said Frank Landi, president of NSI. "Bright Bugz lets you create the illusion that colored lights are appearing and disappearing at your command. You'll amaze everyone around you as you perform jaw-dropping light shows with your hands."
With Bright Bugz, anyone can appear to make magic. Just activate the colored lights. Then "throw" them, "catch" them – even toss them into a cell phone. The reaction of onlookers? It will glow … their … minds!
What kind of easy magic tricks can one do with Bright Bugz?
"Spark" a finger on an arm or leg and make light appear with the "Light a Match and Blow it Out" trick. Pretend to sniff the light and sneeze it out, with the "Sniff and Blow" trick. Pull and toss light from a pretend flower with the "She Loves Me, She Loves Me Not" illusion.
"You can pretend to toss light into your mouth with the 'Eat Bright Bugz Out of Thin Air' trick, while making gulping sounds and playfully noting that you're having a light snack," Landi said. "Or push the light into your forehead while joking that you're feeling a little light-headed. We can't wait to see all of the exciting illusions that fans come up with on their own. We're encouraging fans to post videos and share their new tricks with the Bright Bugz community."
Social media is already buzzing about Bright Bugz, with Internet celebs like spokesperson and Bright Bugz inventor Carl Z and YouTube star Roman Atwood posting videos that have received millions of hits from fans.
Bright Bugz come in six colors – pink, green, blue, yellow, red and white – and are currently only available for sale on BrightBugz.com as part of an exclusive Internet launch. They will be available at retailers nationwide later this year.
Bright Bugz will retail for $9.99 a set, and each set will come with an incredible 3D HoloBeam™ that will turn a smart phone into a mini hologram projector. Just download the Bright Bugz app, attach the HoloBeam to a smart phone screen, and watch 3D images futuristically hover above. The Bright Bugz app also lets users access instructional videos and create the illusion of tossing light into a phone, moving it around, then pulling it out again.
For more instructional videos, tips and tricks, go to BrightBugz.com and follow Bright Bugz on YouTube, Facebook and Instagram. Also look for RealBrightBugz on Vine and Snapchat.
ABOUT NSI INTERNATIONAL INC.:
NSI International Inc. is a global marketer and manufacturer of innovative toys and children's products under such established brands as Nickelodeon, Smithsonian and Oglo sports. NSI is headquartered in New York City, and its products can be found in thousands of retail locations in more than 30 countries around the globe. © 2016 NSI International, Inc. All Rights Reserved.