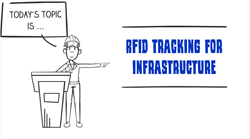 Since we started testing it in early April, 60% of our new customers have opted for Item Tracking.
Manchester, NH (PRWEB) May 23, 2016
International Coding Technologies, Inc. announced that precast concrete manufacturers may now have full access to its Idencia concrete tracking system simply by purchasing its patented Cast-A-Code® RFID tags. Whereas subscribers purchase tags at a list price of $0.95, customers who wish to use the system without subscribing may purchase tags at a price of $1.25 and have full use of the underlying Idencia information tracking system.
CEO Jeff Pollock explained: "We recognize that some customers are asked to provide RFID tracking for selected projects and therefore may not want to pay an annual subscription fee. Other customers recognize that Idencia will reduce the cost of managing inventory and quality control throughout their operations but want to try the system before committing to an annual subscription. Our new Item Tracking service serves both."
Rob MacPherson, VP-Sales, confirmed that the market has reacted favorably to the move: "Since we started testing it in early April, 60% of our new customers have opted for Item Tracking and our sales cycle has dropped from 75 days to less than 30. We are very pleased with the market's enthusiasm."
The Idencia product tracking system is offered to improve the operating margins of precast and pre-stressed concrete manufactures with:

30-35% reduction in compliance costs (elimination of paper files)
Less time searching for inventory (GPS yard map)
Fewer shipping mistakes (products loaded on trucks are confirmed with a scan)
More efficient customer service (customers can access product/shipping status on-line)
For more information, please contact: Jeffrey M. Pollock, CEO; jpollock@idencia.com.
About ICT:
International Coding Technologies, Inc. (Manchester, NH USA) offers the Idencia system, an information tracking service that advances productivity in the manufacture, construction and maintenance of products used in public infrastructure such as bridges, tunnels and railroad track. The company sells to manufacturers of precast concrete, pre-stressed concrete and steel products worldwide.