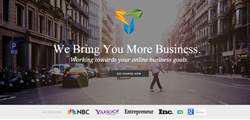 New York, New York (PRWEB) May 24, 2016
With the year 2016 turning out to be a huge time in search engine optimization (SEO) and Internet Marketing, Mimvi SEO Long Island has expanded from their base in the Long Island area into the greater New York City and Manhattan territory. After a successful year of happy clients, many pots of coffee and various marketing innovations, Mimvi has graduated from the shy kid in class to Mr. Popular in the SEO world.
For the first time, Mimvi SEO Company has been awarded the top-rated SEO Company of 2016 by http://www.seocompany-reviews.com. SEOCompany-Reviews.com said: "Not only does Mimvi SEO provide unmatched SEO results to their clients for Local and National SEO, they show full transparency and data that breaks down where your dollars are being spent. We have seen many SEO companies come and go, but Mimvi SEO is a staple in the SEO world. For that reason, among many others, Mimvi SEO has been honored with our Gold Award for SEO Agency of the Year."
The fact is that search engine optimization is a critical part of any business and will help any start-up to become successful in the long run. You may ask, how can an online presence help grow my business, right? Well, the reality is that SEO services can help generate a large amount of search traffic, sales and new customers for your business. Mimvi SEO has been helping drive local traffic and sales to brick and motor locations, and to online shops alike.
Chief Executive officer Marcus Becker stated: "Price is what you pay. Value is what you get. While it takes 20 years to build a reputation, it only takes five minutes to ruin most of it. We bring value to the SEO and marketing world and stand behind what we say; actions count."
About Mimvi SEO:
Mimvi SEO delivers unmatched SEO Services and Internet Marketing strategies for companies nation-wide. We drastically increase organic web traffic, bottom line revenue and overall online presence for businesses. Mimvi SEO New York places customer support and satisfaction as its first priority and offers 24/7 support from seasoned SEO experts around the country.
Contact Details:
New York, New York
Contact: Marcus Becker
Phone: 917-477-6552
http://www.mimvi.com