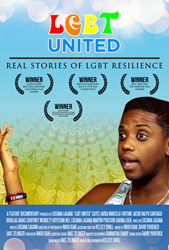 Pursuing artistic endeavors while improving quality of life for discriminated minorities is a dream of mine. It is 2016 but we still have so much microaggression and overt aggression against so many minorities.
Hollywood, California (PRWEB) May 23, 2016
California State University Northridge (CSUN) psychology professor Luciana Lagana specializes in research on discriminated minorities' quality of life and is currently focusing on ways to improve how people treat under-represented groups. For this purpose, she is creating advocacy documentaries to be tested through research to find out whether watching them could have a significant anti-bias effect on viewers.
"Pursuing artistic endeavors while improving quality of life for discriminated minorities is a dream of mine. It is 2016 but we still have so much microaggression and overt aggression against so many minorities," Dr. Lagana shared. Her advocacy for those who are experiencing discrimination is evident through both her research and her outreach work.
One of the groups that she would like to see receive more respect is the LGBT community. "It would be great if research would show that documentaries on what LGBT individuals go through could reduce homophobia. At CSUN, we are testing whether watching the documentary feature film LGBT UNITED has an anti-bias effect on young college students," she commented.
This is Dr. Lagana's second social impact feature documentary, with the first being the award-winning film UNDERSTANDING PAIN IN OLDER AGE, which is competing at several film festivals and is being tested through research at CSUN for its potential anti-ageism and empathy enhancing effects.
LGBT UNITED is distinguishing itself at several film festivals and is currently on the short list of some tier 1 international festivals that will make award decisions in the next few months. "We are keeping our fingers crossed that this social impact film will fare well at more film festivals. Winning awards will showcase the film's technical quality as well as its content. Many festival judges and audience members who cast film votes have been showing their support for this project. So many people are discovering the need for films like this, which inform the public about important social issues," stated Dr. Lagana.
This film has already gathered several awards at film festivals. Within the past few months, in addition to winning the 2016 Silver Lei for Best Documentary at HONOLULU FILM AWARDS, it won Best Documentary at the BACK IN THE BOX COMPETITION, the Silver Award for Best Documentary Feature at both the CALIFORNIA FILM AWARDS and the INTERNATIONAL INDEPENDENT FILM AWARDS, and the Award of Recognition for Best LGBT Film at the INDIE FEST FILM AWARDS.
Dr. Lagana is dedicated to informing the public about serious social topics while entertaining with her sense of humor during interviews with various experts on the topics covered in her films. So far, her movies include footage of people struggling with issues such as living in chronic pain, having fallen or being at risk for falling in older age and, in the case of LGBT individuals, being mistreated by people. "It is shocking to hear what my LGBT interviewees have to say in LGBT UNITED. They have experienced so many unbelievable kinds of mistreatments ever since they were small children, including emotional abuse, harassment and physical violence; hopefully, this movie will make a difference", stated Dr. Lagana.
She is not the only one to be excited about the possibility of using movies to achieve anti-discrimination results in innovative film-based intervention research. Kelcey Sholl, the film's assistant director, used this movie in her graduate thesis and received her M.A. in clinical psychology from CSUN this week. Kelsey is very happy about the film's reception at film festivals and the preliminary anti-bias results of her research with Dr. Lagana.
"For my thesis, I have conducted a research project with Dr. Lagana to decrease homophobia via showing this film, and we are preparing a manuscript on this preliminary study's findings to be submitted to a peer-reviewed academic journal in the near future. We are so excited about this research and its results. We have tested the impact of the documentary in a randomized controlled study on 97 undergraduate students at CSUN; 52 of these participants watched our film and 45 watched a neutral film. We discovered a statistically significant decrease in homophobia after students in the experimental group viewed LGBT UNITED, in spite of our small sample size. This means that after students watched it, they displayed more positive attitudes towards LGBT individuals. The power of film to impact such an important issue is amazing. Film has the ability to be distributed to and to be viewed by large numbers of people, making it convenient to impact individuals across all age groups and particularly those who reside in geographical locations with relatively low numbers of LGBT people, who could potentially have negative attitudes towards them. A lack of knowledge and exposure to LGBT individuals can make difficult issues even more complex. It would be amazing to introduce people across the nation and beyond to the challenges that this discriminated community faces through our film," Kelcey shared.
Cayes Jarda, the trangender star of this movie, is also very excited about how the film is faring on the festival circuit and its preliminary anti-bias research findings. "I was thrilled to hear the results of the film. I started talking more openly about being trans in honor of Leelah Alcorn who took her life back in December 2014. Reading her suicide letter is what pushed me over the edge. Something needed to be done and I'm pleased to see it's working. Our LGBTQ youth are at such great risk for violence from their families, peers, and society as a whole. I hope to continue to help guide this much needed conversation about my community. I am truly blessed to be a part of this project. If you want more information about transgender issues, check out #fixsociety at the following link: https://twitter.com/hashtag/fixsociety?src=hash", concluded Cayes.
Written by Stefanie Friesen
Luciana Lagana is a caring clinical and experimental psychologist. She is also an established professor of psychology, gerontology, women's health and sexuality at CSUN, where she teaches classes and mentors many undergraduate and graduate students. Additionally, since 2002, she has been conducting government-funded research on the physical, psychological, sexual and social health of ethnically diverse, primarily low-income older women. Concerning her artistic pursuits, since 2006, she has been studying acting, TV and radio hosting, screenwriting, directing and producing in Los Angeles. She has several IMDb credits for her award-winning screenwriting, directing and producing, and over 50 credits for hosting and acting in many independent feature films, TV pilots and web series. She is the writer/lead actor/director/producer of the 2014 award-winning fictional web series "Intimate Temp Agency", which also won Best Trailer at the 2015 Academy Award-Qualifying Hollywood Reel Independent Film Festival. Her 2014 "Dr. Luciana Show – Aging and Falling" web series won numerous awards, including Best Educational Show at the 2015 WorldFest-Houston International Film Festival. She also wrote, hosted, directed and produced the two 2015 award-winning social impact feature documentaries "Understanding Pain in Older Age" and "Aging and Falling" that are currently on the film festival circuit.