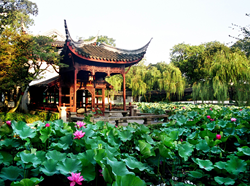 SUZHOU, CHINA (PRWEB) May 24, 2016
Suzhou Tourism announces the successful completion of its five-month global social media campaign that targeted North American and European travelers – "A Virtual Look at Suzhou: Home to Culture, Canals, Cuisine and Craft" – which reached more than 2 billion consumers. Utilizing core engagement tactics, Suzhou Tourism implemented a comprehensive social media strategy, which included two online sweepstakes, monthly giveaways, four offline events, consumer and influencer engagement, and content creation, to increase visibility and awareness for the destination among various digital and social media platforms, specifically its website TravelToSuzhou.com, Instagram, YouTube, Facebook, and Twitter.
Suzhou Tourism successfully launched its Instagram and YouTube channels in January 2016 in association with this campaign, growing the channels to more than 1,100 followers and 230 viewers, respectively, in a mere five months. On Facebook, the destination's page saw a growth of 56 percent, with 53,000 new likes, while Twitter had a growth of 58 percent with an increase of 13,000 new followers, from February to May 2016. Over the course of the interactive campaign, Suzhou Tourism engaged with some of the most influential key opinion leaders in North America including Johnny Jet, Nomadic Boys, and Daily Travel Tips. In total, the integrated online efforts generated more than 6 million impressions for Suzhou Tourism.
An integral part of the awareness campaign was a two-month, coast-to-coast publicity tour in United States that made stops in Portland, Los Angeles, Fort Lauderdale, and New York City. This series was designed to connect consumers, media, and travel professionals with the destination via in-person interactions and social media activities. Events included "Suzhou Tourism Day" in sister city Portland, Oregon at Lan Su Chinese Garden, which is a replica of a Suzhou-style garden; an interactive evening event with LA Travel Massive that featured a selfie-station where guests took photos of themselves "in" Suzhou for sharing across social media; a "take over" of one of New York City's iconic water taxis with a creative exterior wrap displaying Suzhou Tourism branding and an evening event onboard the water taxi with the city's top travel agents; and a luncheon ceremony with tour operators and media in Fort Lauderdale during which the city's Vice President of Tourism Sales Fernando Harb presented a certificate of friendship showcasing the connection between the "Venice of America" – Fort Lauderdale and the "Venice of the East" – Suzhou, China .
Excitement for these outreach efforts – both digital and offline in their approach – reached overseas and domestic media audiences. Significant press coverage for the campaign was produced in outlets across Europe, Canada, the United States, and mainland China including Shanghai Times, The Beijing News, CCTV, China Daily, Sun Sentinel, USA Today, Global Traveler, L'ItaloEuropeo, Global Newsweek, and many others. Overall, more than 2,200 articles discussing various components of the campaign were published – further enhancing the global visibility of Suzhou.
Suzhou Tourism's enhanced presence across social media was timed to leverage the momentum surrounding U.S.-China Tourism Year for 2016, ensuring that stories of the city's unique programs were communicated directly to key audiences, positioning it as a "must-see" destination for travelers who are considering a trip to China. The campaign builds off an ongoing, fully integrated destination awareness and educational program with PHG Consulting that started in November 2014. Based on custom market research, the multifaceted program sought to develop Suzhou's profile as a compelling destination for U.S. travelers through a combination of travel trade outreach and representation, product development, public relations, website creation, online marketing, and destination management. To date, the program has proven to be successful with the creation of more than 42 new tour packages and the generation of more than 250 articles reaching 1.5 billion consumers.
About Suzhou
Suzhou, the "Venice of China," is known for its elegant stone bridges, canals, flowing water, and noteworthy architecture. Located in the center of the Yangtze River Delta, approximately 60 miles west of Shanghai, Suzhou is one of the oldest cities in the Yangtze Basin dating back more than 2,500 years. The city boasts the beautifully manicured Classical Gardens of Suzhou, nine of which have been designated a UNESCO World Heritage Site. Each year, millions of tourists travel to Suzhou to experience the destination's more than 400 attractions, ranging from pagodas and temples to historical districts and world-class museums. As the largest industrial city in China, Suzhou is home to Suzhou Industrial Park (SIP), which boasts five-star hotels, the iconic Lake Jinji, and Asia's largest Ferris Wheel. Travel to Suzhou is easily accessible via three convenient area airports with non-stop flights from North America: Shanghai Hongqiao International Airport (SHA) offers bullet train service to Suzhou, which is approximately a 50-mile, 30-minute trip; Pudong International Airport (PVG) is approximately 65 miles from Suzhou, an hour and half drive; and Sunan Shuofang International Airport (WUX) is approximately 14 miles from Suzhou, a 30-minute drive.
For more information on Suzhou please visit http://www.TravelToSuzhou.com, follow us on Instagram @visitsuzhou, Twitter @suzhouvisit and like us on Facebook at Visit Suzhou.